A number of local GAA clubs and community groups have come together to provide emergency delivery services, grocery collection and shopping, prescription and welfare runs and more.
Here's some of those…
Carlow County Council
The County Carlow Community Response Helpline is a FREE & CONFIDENTIAL service for the elderly & vulnerable to assist in the cocooning initiative during the #COVID19 lockdown. Open 9am – 5pm Monday to Sunday.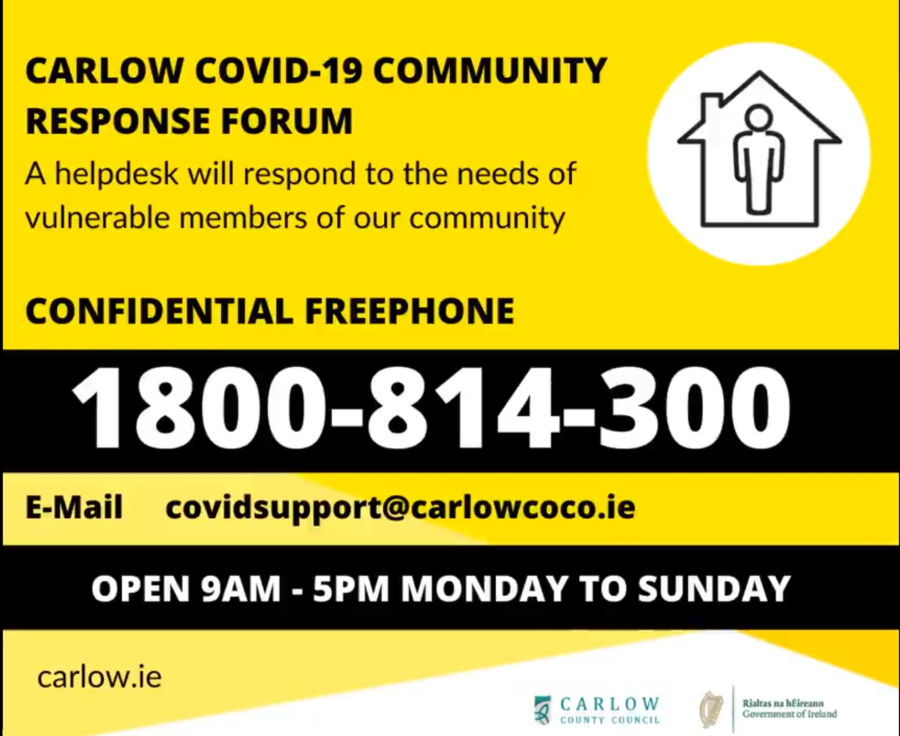 Kilkenny County Council

DEDICATED COMMUNITY SUPPORT HELPLINE IS NOW AVAILABLE – 1800 500000
The confidential free phone number is 1800 500000. You can also contact the helpline on 056 7794145. The helpline will be open from 8am to 8pm each day including Saturday & Sunday.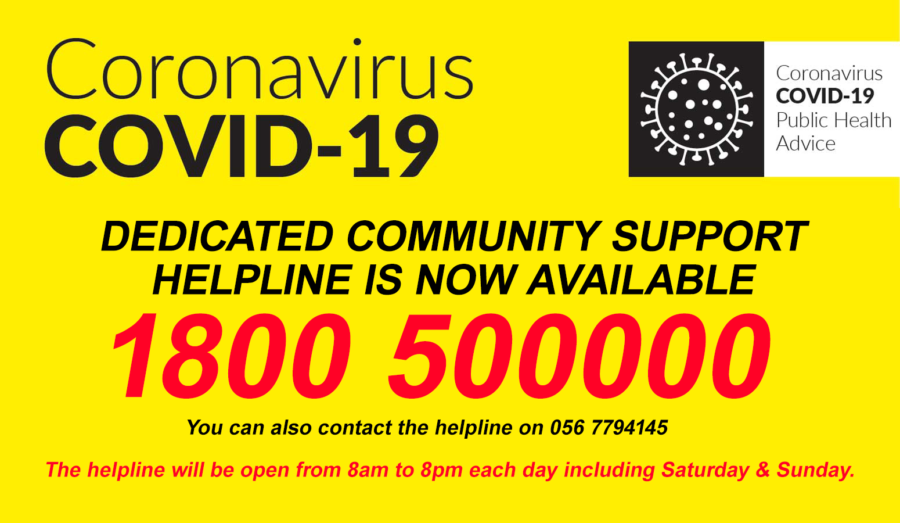 Useful Volunteers Infomation
CARLOW VOLUNTEERS
Ballinabranna
Volunteer group that is willing to collect your prescriptions, shopping, fuel for your fires, or anything that you might require.
Contact us by calling/text 0866062222
Myshall/Drumphea
A 24 hour phone help line has opened in the Myshall/Drumphea area of Carlow which will be answered by volunteers from the Parish.
The message for the area is not to be alone or isolated and if there is something you need to ask and they will try to help. The number to contact us is 0873637862.
KILKENNY VOLUNTEERS
Ballyhale
Shamrocks GAA together with our Health & Wellbeing Committee are offering assistance to all. Please contact the club mobile if anyone within the Community needs help with collection & delivery of essentials and/or prescriptions during this crisis.  Contact: 083 3626211
Barrow Rangers
We as a club would like to assist anyone in our community at this time that needs any help in overcoming the effects of this virus, such as people who will have to self isolate and need some one to go to shops:
Contact: 0863197240
Clara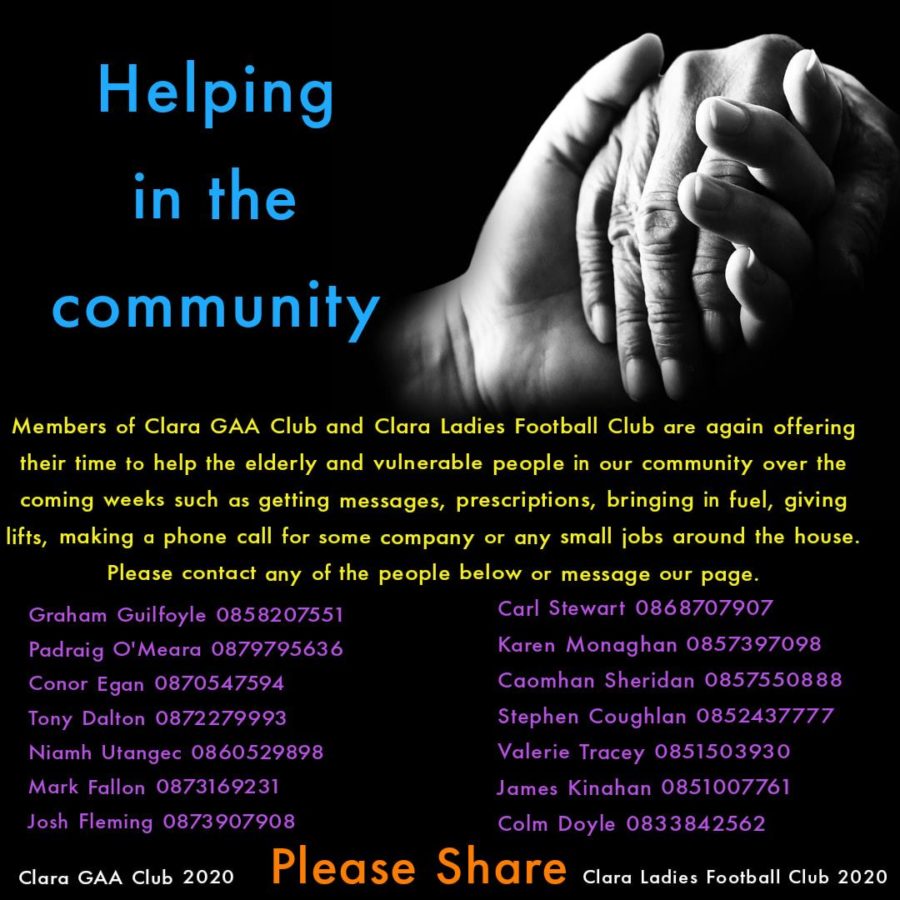 Cloneen
Help with the collection and delivery of essentials and prescriptions for the elderly/vulnerable people in our community during this challenging time.
 Contact: 087 9207047
Danesfort
Voluntary group set up within the community to help elderly, vulnerable and sick people over the coming months,
To avail of this service, or to volunteer, please contact 
Nicola 0872801798 
Fionnuala 0861080130 
Maryanne 0861666547 
Josephine 0862566246 
Jim 0863502730
Claire 0876496779
Dunnamaggin (Kilkenny)
Dunnamaggin Development Group in conjunction with Dunnamaggin GAA Club and Kells Community Group has established a group of volunteers who will deliver medication, groceries, fuel etc. to your door.
If you need this service or have concerns and just need a chat please contact the following, who will in turn co-orrdinate with the other volunteers.
DUNNAMAGGIN: Jim Hickey: 087 9667739; Mary Farrell 087 6350095 and James Rossiter 087 2755091.
KILMOGANNY: Willie Kearney 087 2872573, Matt Doran 087 2470458 and Jane Fallon 085 1698534.
KELLS: Philip Tallon 087 2831590 and Inez Sheridan 087 6715364.
Erins Own
Help with the collection/ delivery of essentials and/or prescriptions for the elderly/vulnerable people in our community during this challenging time. This is now up and running. We will do our best to help out where possible.
To avail of it contact John, 085 8537666 @KilkennyCLG
Evergreen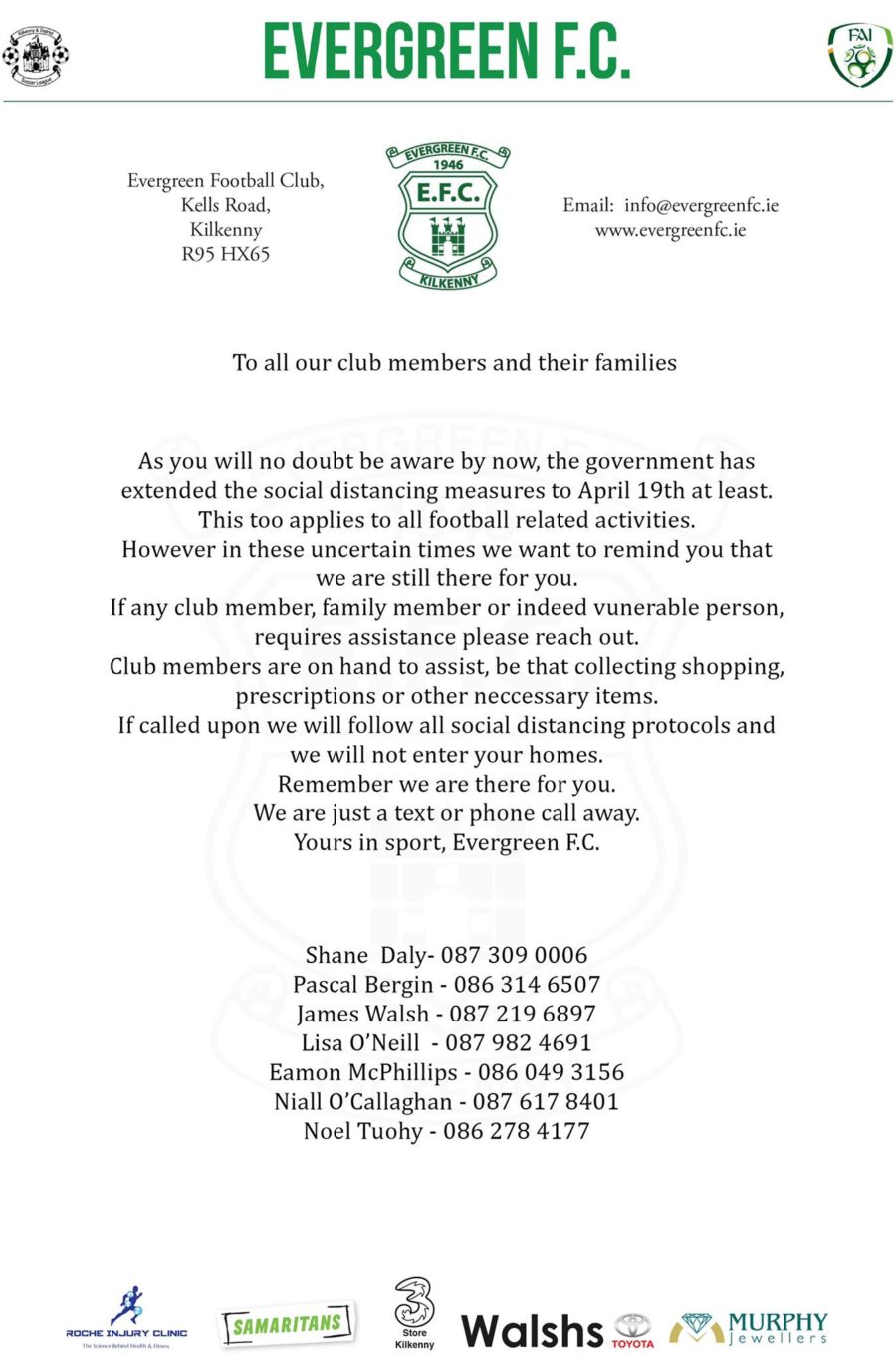 Gowran/Dungarvan Area
Young Irelands GAA & Camogie Clubs, Gowran AC and Gowran & Dungarvan Community Alert have established a community volunteer group.
For more, contact
Denis Quinlan 085 7495081
Eamonn Kelsey 086 8782489
Karina Langton 086 8427777
Ted Ryan 087 2208298
Ursula Brennan 085 1021279
Graignamanagh
Graignamanagh GAA Club have partnered up with Doran's Super Valu to assist with grocery deliveries to those most affected in our Community similar to a number of other Clubs in the Country. If anyone is available and has time to assist in any way, please contact Thomas Holden on 087 2886560 or any Committee Member.
James Stephens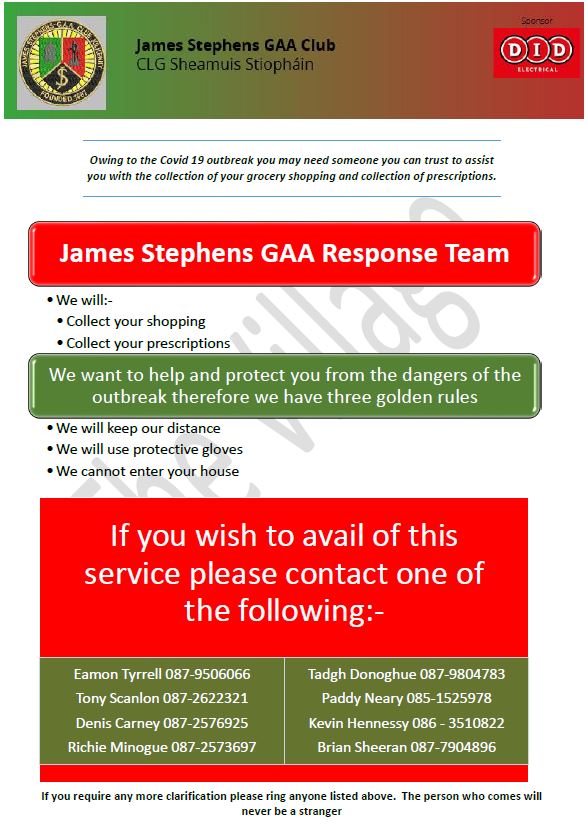 Kilkenny Rugby Club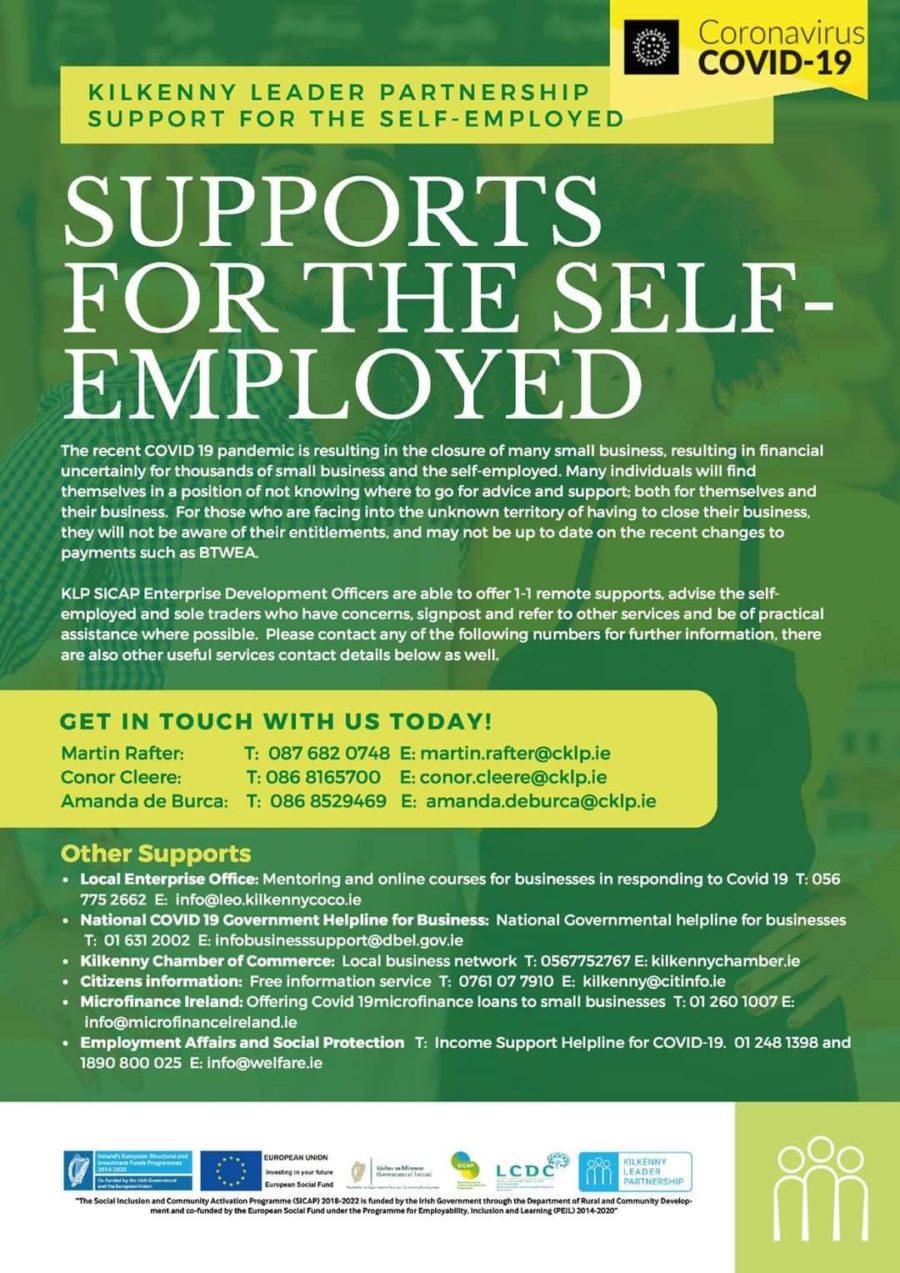 Mooncoin GAA Covid-19 Community Assistance Facility
We have established a group of volunteers who will deliver medication, groceries, fuel etc. to the elderly/vulnerable or members of our community affected by the covid-19 virus.
This will be operated in the strictest of confidence in conjunction with Blanchfield's Centra.
To avail of this service please contact us on our new club mobile number: 085 175 9189
Rower Inistioge
We have established a group of volunteers who will deliver medication, groceries, fuel etc to elderly/vulnerable people in our community. This will be operated in the strictest confidence!
To avail of it contact: 0894525740