Fully Qualified Electrician (Kilkenny)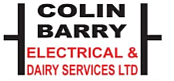 Colin Barry Electrical & Dairy Services, Kilmoganny, Co Kilkenny are now hiring.
We are seeking a fully qualified electrician for local work in the Kilkenny area.
Competitive salary available for the successful candidate. Enquiries and CV to [email protected]
OR call 087 6226559 for more information.