KCLR News
Autumn bilingual festival starts in Carlow today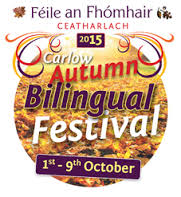 Film, music, dance and a 'cúpla focal' are all on the agenda in Carlow this week as the annual bilingual festival gets underway.
Féile an Fhómhair runs until October 9th at venues across the county.
It's a week-long festival in both Irish and English and will see a packed programme of céilís, workshops and concerts taking place.
One of the highlights this year will be the screening of Cartoon Saloon's oscar nominated 'Song of the Sea' in Irish.
That's taking place in the IMC Fairgreen on Tuesday, 7 October.
The variety concert takes place tonight at the Seven Oaks Hotel and there will be a special appearance from the newly crowned Rose of Tralee Alysha Brennan
For full programme details see www.glorcheatharlach.ie