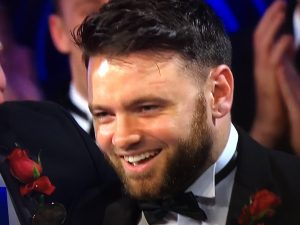 The Kilkenny Rose might not have made it to the final 32 in the Dome but her escort was last night crowed Escort of the year.
Thomas Lynch from Kerry had been paired up with Kilkennys Tara Roche for the contest in Tralee and last night was announced as the winner.
Former Kilkenny Mayor Patrick O Neill is taking part as an escort this year – his Toronto Rose was on stage last night.
The International Rose of Tralee will be crowned later tonight.