Folk / Roots
Folk/Roots : Interviews : Kilkenny Roots Festival Launch 2015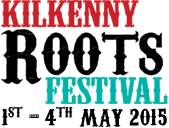 The 2015 Kilkenny Roots Festival was launched last night by Mayor Andrew McGuinness. In his speech he mentioned the fact that a generation of local music fans, musicians and sound engineers got their first breaks at the Roots festival or saw bands and artists that became their firm favourites.
This year the Festival was awarded an honour by IMRO and is testament to its growing importance as a place to see and hear the finest roots music in Ireland.
Sporting the greatest number of gigs (90 this year), the festival is a hub of activity and is produced each year by a unique combination of festival staff and volunteers, the Kilikenny City Vintners and other local businesses and made even more special by the increasing number of national and international visitors.
I caught up with some of the festival team, musicians and supporters at the launch in the newly established Kilkenny Experience.
A few tickets remain for some shows, but many are sold out so head down to Rollercoaster Records in Kieran Street, phone them at (056) 776 3669 at or go to the festival website
See you in May!!!