KCLR News
Kilkenny makes final of top 10 'Foodie Towns'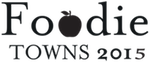 Kilkenny has made it into the top 10 finalists in the 'Foodie Towns' competition for 2015.
The Restaurants Association of Ireland announced the shortlist this week.
Kilkenny is one of 10 finalists battling it out for the title of 'Foodie Town' 2015 and is in the running against the likes of Boyne Valley, Dungarvan and Derry.
Each of the 10 finalists will now receive a pre-arranged visit by a pair of independent assessors in the coming weeks.
This assessment will be combined with a national public voting campaign where the public can choose their winning foodie destination – this can be done on www.foodietowns.ie.
The winning town or destination will be crowned in October this year.