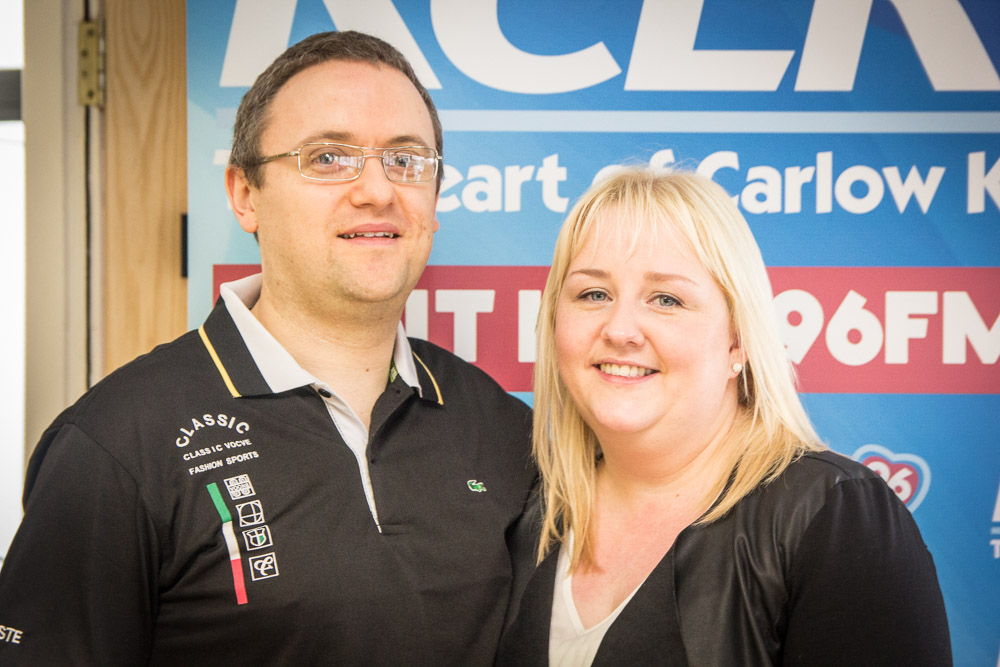 KCLR's A Decent Proposal with Murphy Jewellers of Kilkenny came to its conclusion this morning in the canteen of Enterprise House, Carlow, where Valerie Sheehan – surrounded by close family members and her two children – popped the question live on air to partner of six years, Ray Byrne.
WATCH: Valerie took the leap live on KCLR this morning – and Ray said yes. Huge thanks to Murphy Jewellers & others, more to follow.

Posted by KCLR96FM on Monday, February 29, 2016
With work colleagues of Ray's, along with his parents also in attendenace, Valerie plucked up the courage to ask the biggest question of her life with a "yes" from a stunned Ray coming quick in response.
"We've been together for six years", started Valerie, "he's going to kill me!"
"I love you with all my heart. You're my best friend and you're an amazing dad and that's why I want to spend the rest of my life with you. So I'm here today in front of everyone here, live on air in front of our parents, Jack and Leah [the couple's children] to ask you if you'll marry me".
Queue a stunned pause before Ray replies "yes".
With cheers and congratulations coming from Ray's colleagues at Red Oak Tax Refunds and all the onlookers at Enterprise House, the couple made their way accompanied by some of Team KCLR to KCLR's main Kilkenny studio for a presentation of flowers, bottles of champagne and over €2,000 of prizes which will help with the wedding planning before arriving at Murphy Jewellers of Kilkenny to meet Martin Costello and the team there and get sized up for a Michael O'Dwyer-designed diamond engagement ring worth over €3,300.
Listen below to the proposal as it happened on KCLR Live today from the 4 minute mark.
From all of us at KCLR, we wish Valerie and Ray all the very best both now and in the future – to find out more about the competition as it happened, check kclr96fm.com/proposal.