KCLR News
Public asked for assistance in tracing missing man in Castlecomer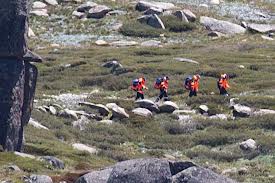 Anyone with Mountain rescue experience or Civil Defense training is being asked to take part in a search for a man missing in the Castlecomer area since Friday afternoon.
A full scale search operation is now underway for the elderly man who was reported missing around lunchtime yesterday.
He was last seen at Chatsworth Upper walking in the direction of Spink at 1.15pm.
He is described as 75 years of age, 5'10" in height wearing a royal blue jumper, over a red and blue striped shirt, beige trousers and black shoes.
Sgt Paul Donoghue of Castlecomer garda staion is asking the public for their help :