KCLR News
Tributes paid as Kilkenny's Willie Meighan of Rollercoaster Records passes away
Tributes are being paid to a much loved Kilkenny businessman who has died.
Willie Meighan of Rollercoaster Records on Kieran Street in the city passed away early on Tuesday morning following an illness.
The 48-year-old had just married in recent weeks.
He's being fondly remembered locally.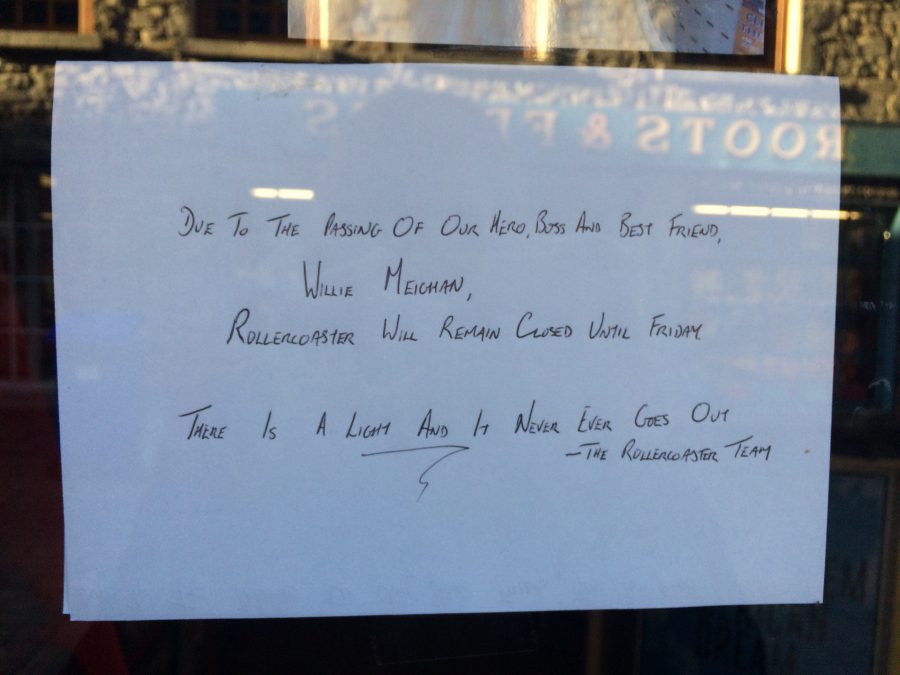 A note on the door of Rollercoaster on Tuesday morning read "Due to the passing of our hero, boss and best friend, Willie Meighan, Rollercoaster will remain closed until Friday. There is a light and it never ever goes out – The Rollercoaster Team."
Funeral Arrangements
Reposing at his sister Marie's residence, 8 Rioch Terrace, from 3-9pm on Wednesday this week with rosary at 9pm. Funeral mass will be held at 11am in St. Mary's Cathedral, with burial following in St. Kieran's Cemetery.
Willie Meighan was a huge supporter of live music around Kilkenny and also to Irish artists in @Rollerkilkenny God bless ya man and condolences to all of Willie's family and friends.

— Davie Furey Music (@daviefurey) November 28, 2017
Though it's bathed in winter sunshine today, Kilkenny is utterly broken-hearted at the loss of one of its greatest cultural and community heroes, @willie_meighan : the Boss of @Rollerkilkenny Lots of love to Aisling, his family and all his many, many friends and admirers.

— Naoise Nunn (@naoisen) November 28, 2017
Willie Meighan was the man who came up with the idea for AKA and drove this festival over the past 3 years, in sickness and health. Nobody worked harder to elevate the arts scene in Kilkenny and nobody made us prouder of our community. Rest easy boss.

— AKA Kilkenny (@AkaKilkenny) November 28, 2017
Growing up I loved the fact that I lived on the same street as Kilkenny's coolest cat. Willie Meighan was the personification of everything good about the town, in both creativity and in spirit. Irreplaceable.

— Aidan Doheny (@AidanDoheny) November 28, 2017
The passing of the guiding light that is Willie Meighan leaves an enormous void. It is up to us to fill it with music. pic.twitter.com/JcMW2bJuJE

— Subterranean Sounds (@SubTSounds) November 28, 2017
Such a sad day, safe home Willie Meighan and thanks for everything pic.twitter.com/rrERoLyzpR

— seamus fogarty music (@seamusfog) November 28, 2017
So sad to hear about my friend and Rollercoaster Records boss Willie Meighan.
I've never met anyone who oozed so much good vibrations. He had 'the glow'.
Thoughts and love to Aisling, Willie's family and all his many, many friends.
Rest in peace bhoy.
💔🤘 pic.twitter.com/M6z4vJ1eAz

— Malojian (@Malojian) November 28, 2017