Ukraine Service: Fundraising Activities & Events
Many individuals and communities are doing what they can to assist both those arriving locally from Ukraine and those who are still in Ukraine – details of donation points and fundraising events can be found here
If you have information to share please contact Tetiana Kushchyk via [email protected]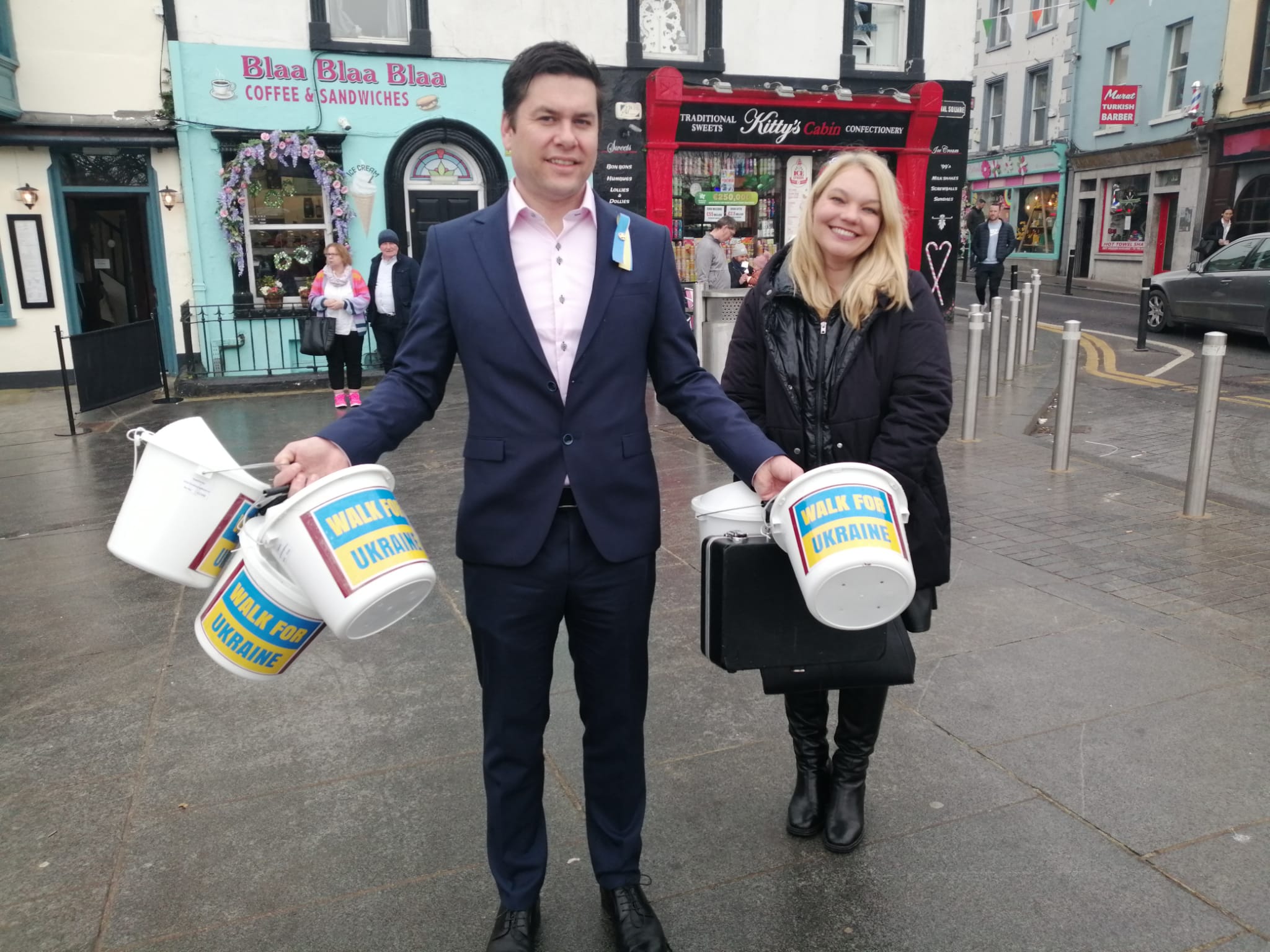 Ukraine Appeal in Kilkenny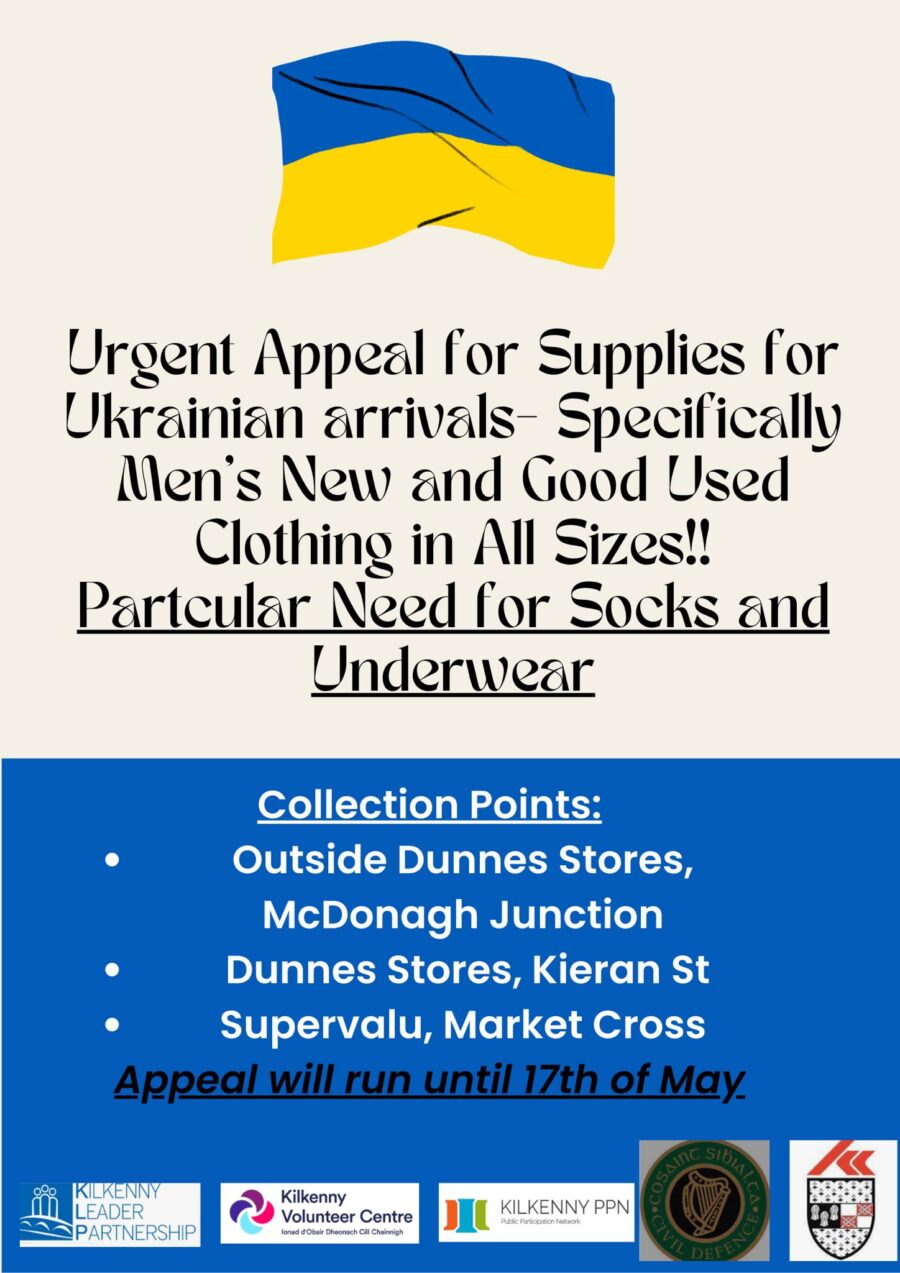 Ukraine Appeal in Carlow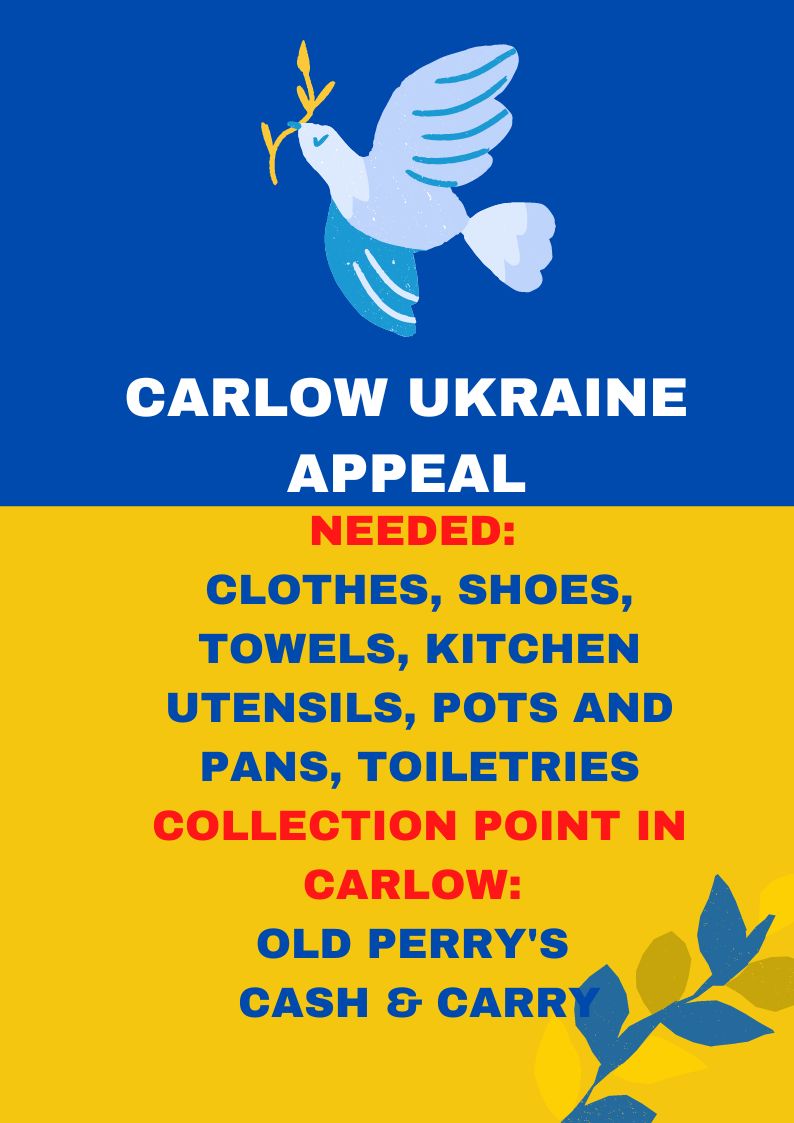 Charity Recreation & Sports Activities
Kilkenny Recreation & Sports Partnership introduces free of charge fitness and sports opportunities for Ukrainian refugees: 
Please, contact KRSP on details below if you wish to join any of the listed KRSP activities without charge. A staff member will assist you with registration (necessary for emergency contact details and any medical conditions etc).
Kilkenny Recreation & Sports Partnership Contact Details:
Website: www.krsp.ie
Email: [email protected]
Phone: Seamus (087 3567884); [email protected]
Stretch and Move on Friday mornings on the Parade in Kilkenny (near to the Castle) – Activator Walking Poles Programme – suitable for adults aged 40+ years.
https://stretchandmovemarch.eventbrite.ie
Chair-based exercises in Callan – Droichead Family Resource Callan
10 a.m. in Droichead Centre on Monday mornings suitable for older adults
https://callanchairbasedexercises.eventbrite.ie
Monday Night Walk Series for adults restarting on Monday April 25th at 7 p.m. from Hurlers Statue on Canal Square Kilkenny. Suitable for those aged 18+ years.
https://www.eventbrite.ie/e/2022-krsp-monday-night-walk-series-canal-square-april-june-tickets-314583897907
Bowling, Boccia and Craic in the Watershed on Monday nights at 7 p.m. Suitable for people aged 40+ years.
https://bowlingbocciacraic.eventbrite.ie
Football For All – at the Watershed each Monday afternoon at 3 p.m. Please, phone Seamus at 087 3567884 before attending.
 Keep in touch with KRSP to get occasional updates on programmes that may be of interest to you! Register with your email address on Eventbrite link: https://2022krspkeepintouchwithus.eventbrite.ie
Clubs in Kilkenny Offering Access without Charge to their Activities. Please, see details and contact number for a key person in the club.
Kilkenny Taekwondo Club
Tuesdays and Thursdays 6:30 to 7:30 pm for children and their parents at Hebron House opposite PlayStation; eircode R95 FH7P. Contact person: Guy Jones, Head Instructor, phone no. 087 8090088.
Lacken Pitch & Putt Club
Play pitch and putt for free (including club hire) at St. Canice's Hospital Grounds, Lacken, Dublin Road, Kilkenny. Contact person: Ger Grace, phone no. 086 8661105.
Kilkenny City Harriers
Athletics training for everybody aged from 8 to 80 years – mothers, fathers, children. Visit the athletics track at the Watershed any Monday, Tuesday or Thursday from 7 p.m. Eircode: R95 HFH1. Contact person: John Maye, phone no. 087 6379354.
Kilkenny Judo Club
Tuesday nights: senior class at 8-9 p.m.;  children's class at 7-8 p.m.; teen girls 8-9 p.m. Venue: Dragons Lair, Hebron Industrial Estate, Kilkenny; eircode: R95E0PN. Contact person: Antoinette, phone no. 087 7036153.
Vesper Dance Studios
Vesper Dance Studios Kilkenny offer many different dance classes and welcome refugees from Ukraine without charge. Kids classes: Wednesday at 5.30 p.m. and Saturdays at 12.30 p.m. Teen classes: Monday 6.30 to 7.30 and Tuesday 5.30 to 6.30. All welcome.
Address: Unit 2 Village Business Centre, Upper Patrick Street, Kilkenny, Ireland; eircode: R95 R8YD. Check out the website: https://vesperdancestudio.ie/. Contact details: phone no. 089 947 8040 and email [email protected]
Kilkenny Storm
Kilkenny Storm would be delighted to welcome any members of the group to their training – they will happily do a beginner's session with any Ukrainian group willing to give it a go, and when they feel comfortable, they can filter into the main group. Please, contact Paul on 085 244 1538 to arrange this (times, dates etc.)
Zumba with Rachel and Rebecca
In Ballyragget, classes are on Tuesdays at 7 p.m. In Kilkenny at the Watershed, classes are on Wednesdays at 7 p.m.
Get Fit Smiling – Thomastown
Complimentary Classes to all Ukrainian refugees
Get Fit Smiling is a group fitness, personal training and kid's running business based in Kilkenny. It's run by Orla O'Leary, and she loves being fit and helping people get fit. Plus, we smile a lot doing it. Promise. Orla has helped lots of people get fitter, stronger, leaner, keener, and quite a few happier over that time. Mums' groups, recreational joggers, pregnant women, serious runners, athletes returning from injury or people who want to lose fat and tone up – Get Fit Smiling. Contact person: Orla O'Leary, phone no. 087 3313472.