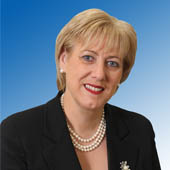 The Minister for Arts, Heritage and the Gaeltacht met with representatives from Carlow and Kilkenny during the week to discuss plans for Ireland 2016.
Next year will mark the 100th anniversary of the 1916 Rising but the Minister Heather Humphreys has said the year will be a celebration of all the major events in Irish history in the past 100 years.
John McDarby of Carlow County Library, says they will soon be looking for your ideas as to what can be done.