KCLR Breakfast with John Walsh
Start your weekdays from 7am with John Walsh on KCLR Breakfast, all with thanks to Marble City Travel.
Find out what's been happening in the world overnight, and on your doorstep. Get the latest local, national and international news and sport and a great music mix across your morning. This September and October, keep an ear out for our Battle of the Breakfasts competition with Savour Kilkenny – nominate your favourite Kilkenny breakfast spot below.
To contact KCLR Breakfast with John Walsh text or WhatsApp 083 306 96 96, call 1890 90 96 96, Facebook @KCLR96fm or Tweet @KCLR96fm #KCLRbreakfast
Battle of the Breakfasts with Savour Kilkenny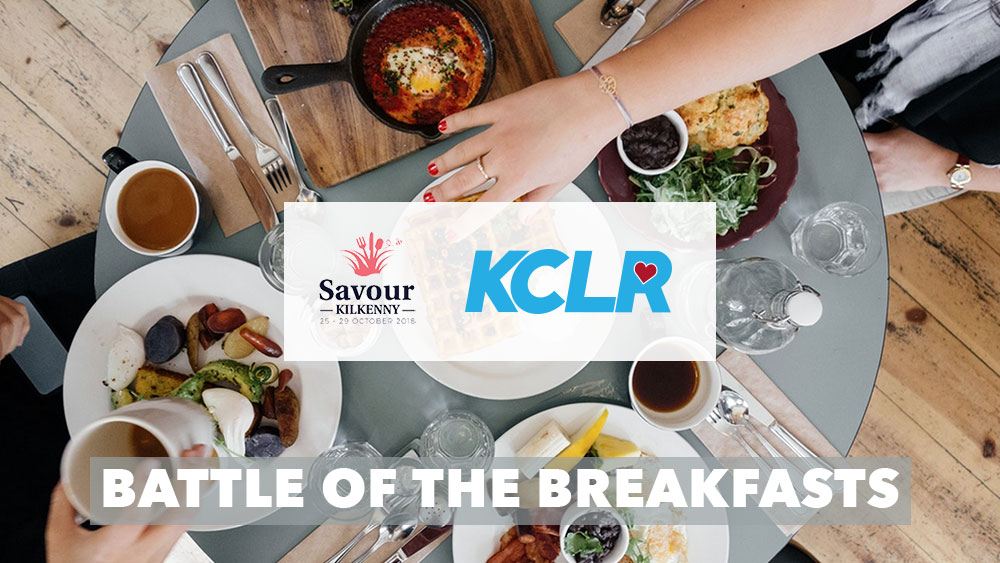 Are you a die-hard breakfast lover or better suited to brunching? Swear by the traditional fry-up or enchanted by avocado on sourdough? Join John Walsh on KCLR Breakfast each Tuesday and Wednesday morning in September and October as he is treated to some of the best breakfasts Kilkenny has to offer.
Judging will take into account variety of menu, innovative use of local ingredients, presentation, and of course taste.
John and his breakfast show team will be the discerning judges having tasted all shortlisted entries. The winner will be announced on Saturday 27th October at 11am by John, during the Saturday Show which will be broadcast from Savour Kilkenny's bustling market.
All of the nominations are now and we'll be announcing the shortlisted entries in early September!
Mystery Voice
Tune in to have a listen to the audio clip then tell us who you think our Mystery Voice is for the chance to win cash.  The competition starts with €10 and builds by €10 each day it's not won. One guess per text 8-10am to 083 306 96 96 and don't forget to include your name & address!
Who Am I? & Linked In
Every now & then we play Who Am I? For this we give out some clues on air & you have to guess which celebrity is being talked about! While on Fridays we give you three words & you must find one that links them all.  There's a chance to win a prize which could be a CD or a a KCLR goodie bag.   That's Linked-In, every Friday on KCLR Breakfast.
Fitness Fun with Kilkenny Ormonde Leisure Club
Ger O'Toole from the Kilkenny Ormonde Leisure Club joins us on air every second Thursday to discuss fitness. If you've a query you'd like answered or are just in need of some advice send on your details! Listen back to his most recent interview here:
Tom Britton of Marble City Travel joins us every Friday after 9am to look at different types of holidays & destinations. Hear the latest chat:
And find the rest on the KCLR SoundCloud page or catch up in the KCLR App.