The Saturday Show with Edward Hayden
Join Edward Hayden on The Saturday Show each Saturday morning to kick off your weekend a healthy serving of fun and informative chat, competitions, music and more. Whether in the studio or out and about across Carlow and Kilkenny, there's something for everyone on The Saturday Show, live from 10am.
The Saturday Show is brought to you in association with Lyrath Estate, Kilkenny.
Get in touch with the show by emailing [email protected] or calling 1890 90 9696.
Text us: 083 3069696, Tweet Us: @kclr96fm or like us on Facebook here.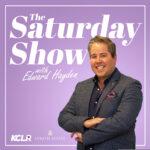 On today's show we spoke to our resident gardening expert Shirley Lanigan about how we can make our hanging baskets...