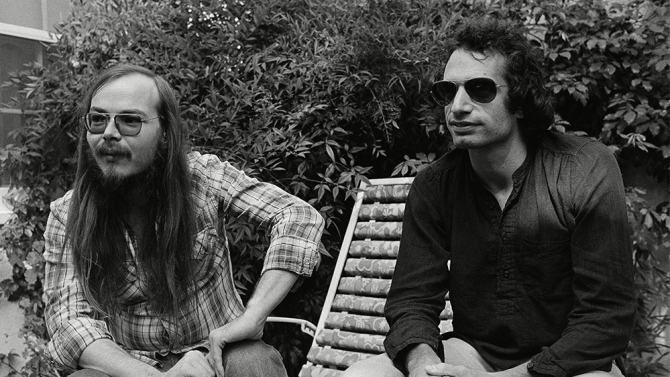 Another year and another musician passes. Hard to be surprised really but it still hits hard when part of the soundtrack to your life becomes a fallen hero…
Walter Becker was one part of the great Steely Dan and he'll be missed by his many fans from over the years. As well as this seminal partnership, he had some fine solo albums and as a producer was responsible for some extremely fine music on behalf of a range of other artists.
There was no way to figure out really who did what in that duo and they liked it that way, inscrutable being one of the many adjectives used to describe them; indeed, in their world, smoke and mirrors played a welcome part in a number of senses of meaning. Their run of albums in the 1970's was simply incredible and they blazed a trail for intelligent music, mingling rock's attitude, the outsider's sneer and the glorious air of jazz. They made their own rules and in the process made many fans. In my opinion, their lyrics were as punk as anything their peers produced; tales of low life and low deeds, the underdog, the darker recesses of the mind, satire dressed as FM friendly music, disclaiming the very people who swore they loved them because they though they were trendy. They made no secrets of their dislikes but musically their love of great playing, capturing the moment as perfectly as possible, became their trademark. Their albums became the standard against which bands, engineers and producers were compared. Their intelligence and perseverance with some of the finest session players gave them kudos they guarded, a status they never played on and a sophistication that set them apart. Often copied, never equalled.
I'm biased, get over it. If you want, there are plenty of fine academics and objective commentaries out there. They probably created their own sub-genre in music journalism and their refusal to play the game endeared and infuriated and that was exactly how they wanted it and how they played it.
They were part of the connective tissue of my musical life and I'm sad as a fan can be that Walter Becker has passed away. If there is a musician's heaven, he's just checked in and we can only hope to hear the results someday…nice thought, whatever your deity of choice. Sign In Stranger…
It was a labour of love to produce and present this one off edition of The Eclectic Light Programme and I thank my colleague John Keane for the opportunity. It was the second time I presented a special on their music. In far off analogue days I produced and presented another one on Radio Dublin way back when. Time ran out then and did again on this show.
Thanks for the requests, and for the requests to repeat. Here it is in all its imperfect but heartfelt form…