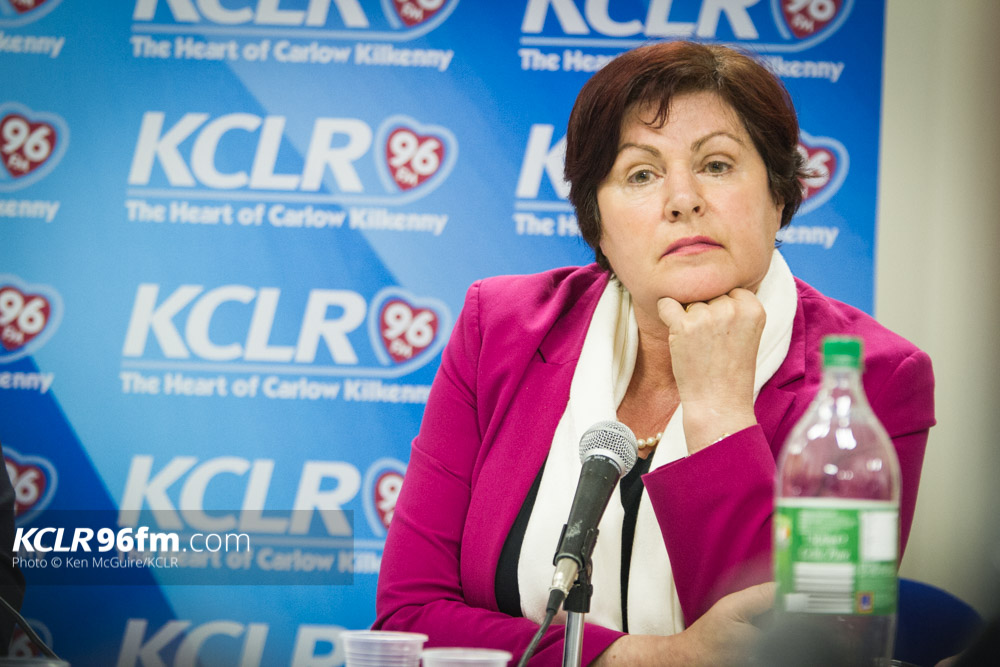 Update 12.00pm: Minister Phelan joined KCLR Live this morning to explain her departure. Listen back here.
Minister of State with responsibility for rural affairs and Carlow-Kilkenny election candidate running in the hope of retaining her seat this weekend, Labour's Ann Phelan TD walked out of KCLR's live election debate while on air last night.
Ann Phelan is "fed up of the whole bloody lot of ye" and is leaving the debate. #GE16

— KCLR 96FM (@kclr96fm) February 22, 2016
With temperatures in the room building and all fifteen election candidates present, a listener comment was put to Minister Phelan that stated "No new employment in Graignamanagh, no Bus Eireann services in the town, no incentive to work with low wages".
"Well I'll tell you what happened with the Bus Eireann incentive, which happened a number of years ago where we did a survey in the town to actuall collect the number of people who would use the service. We held a public meeting and unfortunately very few people turned up to that meeting so if you have a lot of people turning up to a meeting and you go to Bus Eireann and say (these) – it's demand-led, it's demand lad", Phelan offered in response before another candidate interjects.
With KCLR's Matt O'Keeffe moderating the debate and calling for just one voice, Minister Phelan declared she was "just going to give up here because, I came to this debate here tonight, I came in here, I've been completely ignored and I'll tell you right now I'm fed up of the whole bloody lot of ye" before being heard removing herself from the table and the remainder of the debate.
Confirming Labour's Ann Phelan has left the debate citing its an "absolute disgrace". #GE16 pic.twitter.com/nGUQlQ7mpi

— KCLR 96FM (@kclr96fm) February 22, 2016
KCLR Live will have more reaction to last night's election debate across the show on air from 10am.
In the meantime, take a listen below to the moment Minister Phelan decided to depart the debate live on air.