A special lunch takes place locally today to mark 100 years since the election of Ireland's unofficial first Taoiseach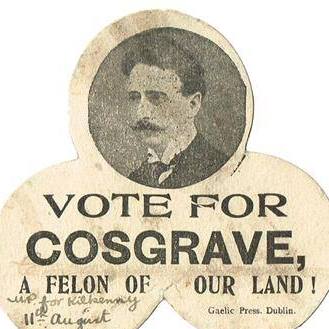 Former Taoiseach, John Bruton will be among around 350 guests attending a special lunch in Kilkenny this afternoon.
The ticketed event was organised by Fine Gael to celebrate 100 years since the election of Ireland's unofficial first Taoiseach in the city, WT Cosgrave.
Meanwhile, a FULL DAY of commemorative events will be taking place in the city to mark the historic election in August.
A committee set up locally has organised a day of music, song, speeches and re-enactments for Saturday the 12th of August.
It could be argued that the Kilkenny bye-election of 1917 was the election that changed the course of Irish politics.
This was the first time a man called WT Cosgrave was elected as a Member of Parliament for the Sinn Féin Party – before later going on to join Fine Gael.
This by-election along with others arond the country were the first elections held since the 1916 Rising – WT himself was only fresh out of jail for his involvement.
After defeating the local candidate – John 'Jack' Magennis – comprehensively, WT Cosgrave went on to become the President of the Executive Council, making him the unofficial first Taoiseach of this country.
On the 12th of August this year, the historical ballot boxes will open again, re-enactors will take to the streets as Countess Markievicz, Éamonn de Valera and WT Cosgrave take part in a parade and make speeches from the courthouse.
A plaque to WT Cosgrave will also be unveiled and the day will come to a close with a special night of music and history in the Medieval Mile Museum.
More information can be found on Kilkenny 1917 Bye-election on Facebook.