KCLR News
Carlow and Kilkenny businesses shortlisted for Good Food Awards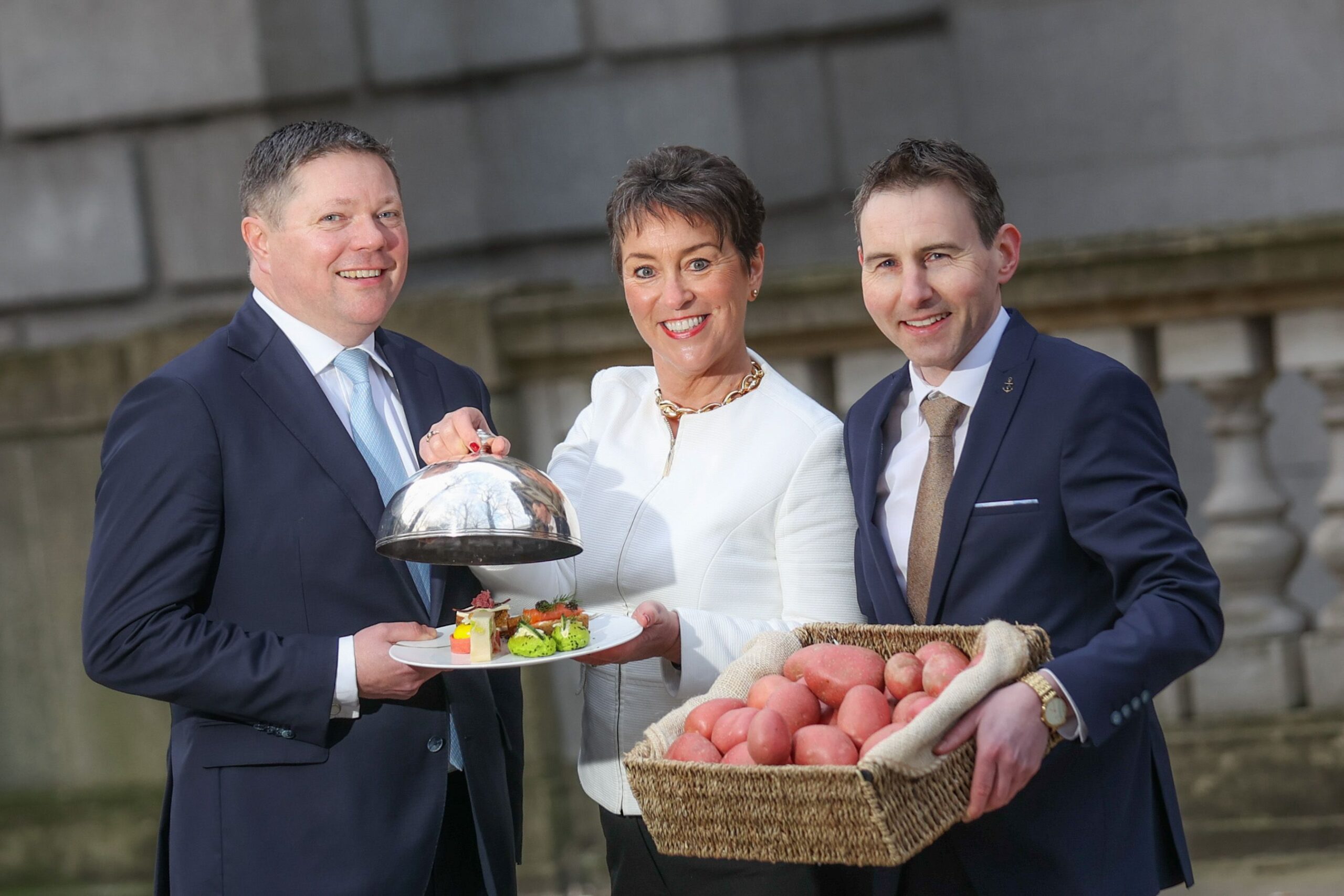 Carlow and Kilkenny are well represented among the finalists for this years Good Food Awards.
Fennellys of Callan are one of the contenders for Cafe of the Year.
Coppenagh House Farm in Carlow makes the shortlist in two categories –  Excellence in Food Tourism and Meat producer of the Year.
Carlow's Village Dairy makes the list for Dairy producer of the year and O'Shea's Farms in South Kilkenny is among those in the running for the Sustainability Award.
The winners will be revealed at the K Club on April 17th.
The public also has the opportunity to cast their votes for their favourite places across the island of Ireland in the Food Lovers Choice Award.
The shortlist will be drawn from the finalists in all other categories.
Online voting will remain open until Monday 20th March.
FULL 2023 GOOD FOOD IRELAND® AWARDS FINALISTS
Hotel Of The Year
Grand Central Hotel Belfast
Hayfield Manor, Cork
Celtic Ross Hotel, Cork
Anantara The Marker Dublin Hotel, Dublin
The Merrion, Dublin
The Europe Hotel & Resort, Kerry
The K Club, Kildare
The Dunraven Adare, Limerick
Culinary Haven Of The Year
The Bushmills Inn, Co Antrim
Killeavy Castle Estate, Armagh
Ballymaloe House Hotel, Cork
BrookLodge & Macreddin Village, Wicklow
Killeen House Hotel & Rozzers Restaurant, Kerry
Cashel House Hotel, Galway
Rathmullan House, Donegal
Ghan House, Louth
Restaurant Of The Year
Fish City, Antrim
An Port Mor, Mayo
Prime 74, Tipperary
The Lemon Tree Restaurant, Donegal
Potager Restaurant, Dublin
Woodruff Restaurant, Dublin
Aniar, Galway
Fishy Fishy, Cork
Hugo's, Dublin
Pub Of The Year
The King's Head, Galway
The Glyde Inn, Louth
The Tavern Bar & Restaurant, Mayo
Harte's of Kildare, Kildare
Mikey Ryan's Bar & Kitchen, Tipperary
The Lifeboat Inn, Cork
The Oarsman, Leitrim
Rusty Mackerel, Donegal
Café Of The Year
Sweet n Green, Clare
Kelly's Kitchen Café, Newport
Farmhouse Café & Bakery, Dublin
GROW HQ, Waterford
Fennelly's of Callan, Kilkenny
The Hungry Bear Café, Wexford
Barrons Bakery & Coffee House, Waterford
Kelly's Café, Wexford
Shop Of The Year
The Roughty Foodie, Cork
Country Choice, Tipperary
Buddy's Farmers Market, Dublin
Brogan's Butchers, Meath
Cavistons Seafood Restaurant & Food Emporium, Dublin
Leaf & Larder Delicatessen & Bakery, Kerry
Firecastle, Kildare
Food Truck Of The Year
The Garden Cafe Truck at Ballymaloe Cookery School, Cork
CRAFT West Cork at The Celtic Ross Hotel, Cork
Koha Street Kitchen, Sligo
SEABISCUIT at The Strand Cahore, Wexford
Sustainability Award
GROW HQ, Waterford
BrookLodge & Macreddin Village, Wicklow
Connemara Smokehouse, Galway
Oriel Sea Salt, Louth
Fish City, Antrim
Atlantis of Kilmore Quay, Wexford
O' Shea Farms, Kilkenny
Excellence In Food Tourism Award
Long Meadow Cider, Armagh
Burren Smokehouse & Visitor Centre, Clare
Ballymaloe Cookery School Organic Farm & Gardens, Cork
Wilde Irish Chocolates, Clare
Vintage Tea Trips, Dublin
The Glyde Inn, Louth
Coppenagh House Farm, Carlow
Producer Of The Year – Fruit & Vegetables
"Garryhinch Wood Exotic Mushrooms", Offaly
The Apple Farm, Tipperary
O'Shea Farms, Waterford
Kearns Fruit Farm, Wexford
Producer Of The Year – Meat
Coppenagh House Farm, Carlow
Market House Ennistymon, Clare
Calvey's Achill Mountain Lamb, Mayo
Jane Russell's Original Irish Sausages, Kildare
Kelly's of Newport, Mayo
Donabate Dexter, Dublin
Producer Of The Year – Fish & Seafood
Burren Smokehouse, Clare
Ummera Smoked Products, Cork
"K'O'Connell Fish Merchants ", Cork
Realt na Mara Shellfish, Kerry
Atlantis of Kilmore Quay, Wexford
Producer Of The Year – Bakery & Chocolate
Koko Kinsale, Cork
Praline, Cork
Jinny's Bakery & Tea Rooms, Leitrim
Walshe's Bakehouse, Waterford
Ditty's Bakery, Derry
Producer Of The Year – Drinks
Armagh Cider Company, Armagh
Jackford Irish Gin, Wexford
Western Herd Brewing Company, Clare
Five Farms Irish Cream Liqueur, Cork
Dew Drop Inn & Brewhouse, Kildare
Producer Of The Year – Dairy
Glastry Farm Ice Cream, Down
The Village Dairy, Carlow
Freezin Friesian, Waterford
Killowen Farm, Wexford
Boyne Valley Farmhouse Cheese, Meath
Producer Of The Year – Jams & Savoury
Wexford Home Preserves, Wexford
Leahy Beekeeping, Galway
Achill Island Sea Salt, Mayo
Wild Irish Foragers & Preservers, Offaly
Harnett's Oils, Down
Keogh's Crisps, Dublin
Producer of the Year
Supreme Award
Outstanding Contribution to Food Production
Outstanding Contribution to Irish Food and Drink Internationally
Lifetime Achievement Award