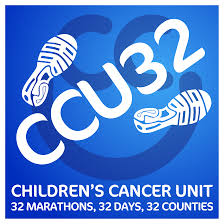 An ambitious group of runners are looking for local support when they come to Carlow today.
They're trying to run 32 marathons in each of the 32 counties of Ireland on consecutive days to raise funds for the Children's Cancer Unit Charity.
They're hoping to raise a hundred-thousand pounds for a new ultrasound scanner at the Royal Belfast Hospital for Sick Children.
They'll be runnning their 26 miles for Day 6 of the challenge on the Parkrun course on the Barrow Track in Carlow today and in the Castle Park in Kilkenny tomorrow.
Anna McDonald of the Children's Cancer Unit charity says they'd love if local runners could come out an join them even for a mile of two!
You can help them out by donating or by joining them for any part of the run.
More details here