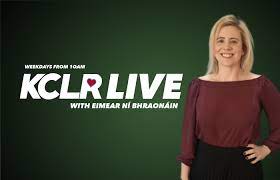 On today's KCLR Live, after nine years the KCLR team and friends of the show say goodbye and thank you to our good friend and colleague Eimear.
Eimear pays tribute to her listeners, family, friends and KCLR colleagues.
KCLR's Amy McLoughlin takes over the mic to give Eimear her final interview, featuring audio from Eimear over the years as well as voices old and young from across Carlow and Kilkenny to pay tribute to Eimear's time on the station.
Inspector Anthony Farrell joins Eimear to talk about the relationship between the media and the Gardaí and present Eimear with a gift on behalf of the Gardaí.
This weeks Friday panel featured John Masterson, Garda Andy Neil and Anne Neary of Ryeland House talk through their favourite Eimear memories.
KCLR CEO, John Purcell pays tribvute to Eimear on behalf of the KCLR Staff.