Memorial fund is set up in Kilkenny to help with funeral costs for Rita Apine
A memorial fund to help pay for Rita Apines funeral has been set up.
The 29 year old Latvian died in hospital on Sunday after being found at the bottom of the stairs at her home in Bridge Street in Freshford earlier that day.
She leaves behind a 2 year old daugher Alina.
Friends of Rita have now established a fund to help cover the funeral costs setting up an account at AIB and they are urging people to donate.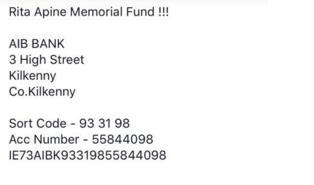 Meanwhile the community in Freshford will remember Rita tonight.
Locals will gather on the Green from 8.15pm for a candlelight vigil.