KCLR News
News & Sport
The all new KCLR app is out today and you can download it now for free
Grab the app today and take KCLR with you everywhere you go.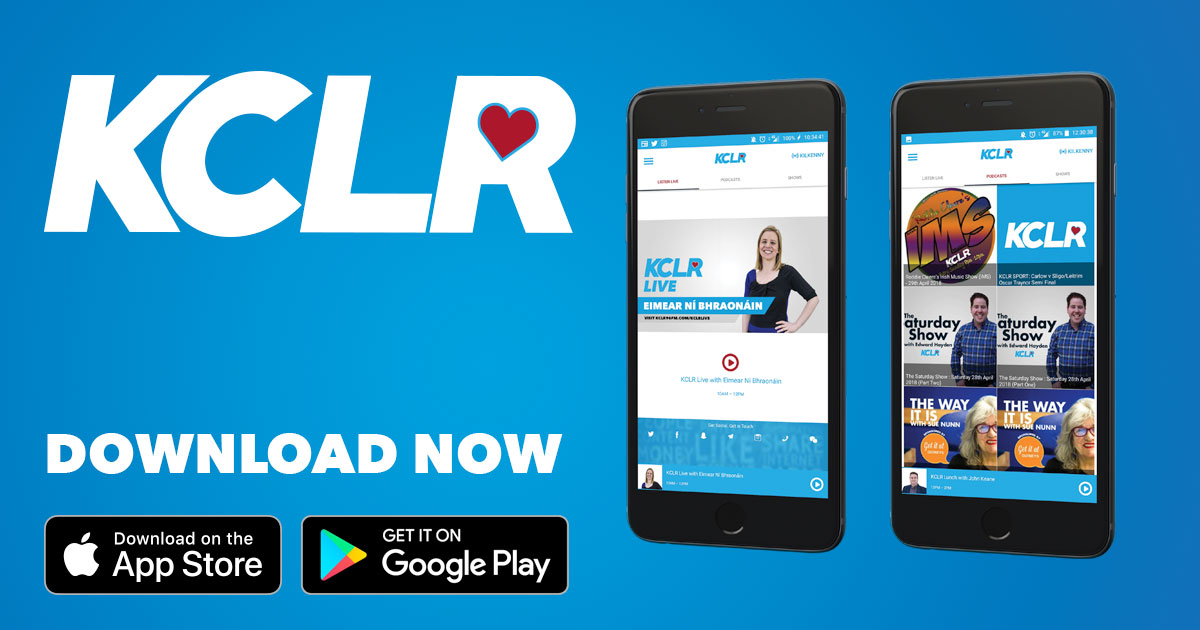 There's even more ways to listen to KCLR from today with the all new KCLR App.
Officially launched on air on Friday morning, the new KCLR app for iPhone and Android users is available to download now, for free.
"We're delighted to be able to introduce the new app today", said KCLR's Ken McGuire speaking on KCLR Live this morning.
Download: Download right now for iOS (iPhone) or Android (Samsung/HTC/Sony/Huawei etc.)
"From today there's even more ways to listen to KCLR and stay up to date with what's happening across Kilkenny and Carlow. You can listen to the station live, catch up on all your favourite shows and interviews, read the latest local news, sport, bereavements, local events and that's just for starters."
"In the next week or two we'll be adding competitions and rewards with big ticket items on the way, discounts and deals with local businesses in Carlow and Kilkenny and incentives for people to engage with the app."
"You can track what we're saying on Facebook, Twitter and Instagram right through the app, and if you're using WhatsApp, Snapchat, Email or anything else, they all tie in as a way to get in touch with the station."
More ways to access live sport
With championship season upon us, there's even more ways to keep up with our live games.
"We've had a very busy 2018 to date with hurling, football, rugby, camogie and soccer commentaries. Those are all available to listen back to in the new podcast section in the app, but also all of our live games this summer will go out through the app."
"Carlow kick off their Joe MacDonagh Cup campaign this Sunday – and it will be live in the app. We're off to Bilbao to follow Leinster Rugby for the Champions Cup final later this month – that goes out through the app. Even our dedicated online only commentaries will be available to listen to through the app."
"When things get busy sporting-wise in the summer and we broadcast Kilkenny and Carlow games simultaneously, you can also hop between frequencies with a single tap from anywhere in the app."
Download the KCLR App
The new app is available to download right now.
For more information and to get updates on the app as we release new features, visit kclr96fm.com/app.