KCLR News
STORM ELEANOR: Carlow and Kilkenny updates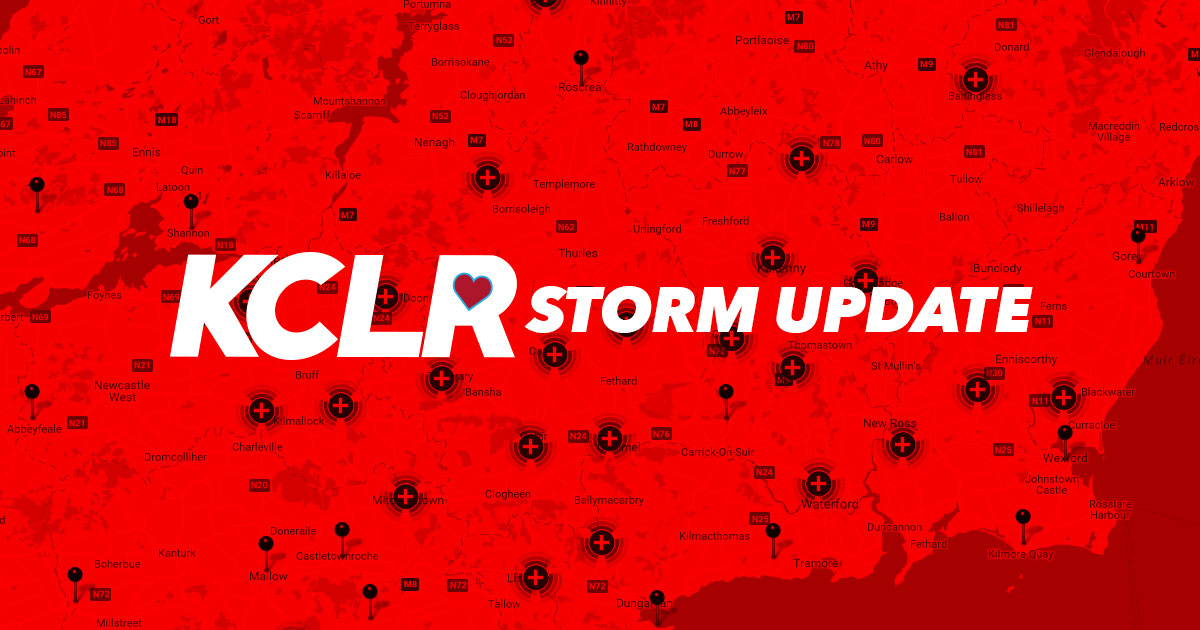 A Status Orange weather warning remains in place for Leinster, Munster and South Galway with winds of up to 65 to 80 km/h, and gusts of 110 to 130 km/h expected.
Both Kilkenny and Carlow County Councils are urging you not to make any journeys that aren't absolutely necessary.
Storm Eleanor is expected to make landfall at about 4pm.
Message from Carlow County Council:
Carlow County Council's Severe Weather Response Group has met today Tuesday 2nd January 2018 due to the onset of Storm Eleanor. Members of the public, property owners and businesses are requested to plan for the severe weather expected later today. Loose items such as bins, unsecured hoarding and signage should be secured in advance of the stormy conditions.  There is a likely high risk of fallen trees, branches and other debris due to high winds.  If power lines are found to be down, the regular ESB warnings should be strictly adhered to.
Carlow County Council has assessed its level of preparedness and has made arrangements in readiness for the onset of Storm Eleanor today. Staff continue to be on alert and close monitoring of Met Eireann weather alerts is continuing today so that appropriate decision-making can take place.  Further updates will be provided through local media and on the Council's social media channels.
Outside of office hours, (At weekends and during weekdays before 9.15 am and after 5.00 pm)  Emergency calls in relation to weather-related issues should be made to the normal Council number of 059 9170300 where instructions will guide people through to the Council's Out-of-Hours call service.
Message from Carlow Order of Malta:
"With storm Eleanor expected to hit this evening, Carlow Order of Malta Ambulance Corps are available to offer their services to members of the community that might need assistance during the storm.
If your requirement is an emergency please contact 112 or 999 but for non-emergency assistance please call our Duty Officer (Ben) on (087) 137 1452."