KCLR News
Tullow residents in the dark over when their lights might come back on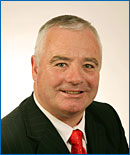 A Tullow Councillor is calling for a resolution after an entire housing estate was plunged into darkness.
The residents of Phelim Wood have been left without any street lights in the estate – its understood they've been switched off because of an unpaid bill by the developer.
The private estate has not been taken in charge by the council yet so they too are powerless.
Councillor John Pender says its not a safe situation at the moment.