KCLR News
News & Sport
50 vintage vehicles set to leave Fenagh this morning in annual Cork to Carlow Tractor Run
It's all in aid of the Children's Hospital in Crumlin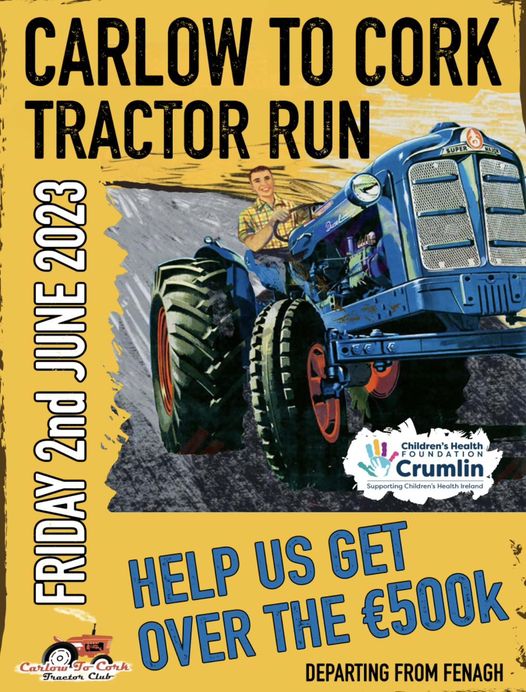 50 vintage tractors are setting out from Fenagh this morning on a two-day drive to Cork.
The annual Carlow to Cork Tractor Run is raising funds for the Children's Hospital in Crumlin.
The group's raised over €490,000 over the 18 years that they've been doing this and are hoping to break the €500,000 barrier this weekend.
John Morrissey says they are having a bit of a send off this morning at 11 o'clock and they're asking people to come along to their start point to help generate some excitement; "We're starting at Kearney's in Fenagh and we're actually planning on putting all the tractors out into the field next door and making a 500 and getting a drone to fly over, just something to create a bit of interest as well, we'll be leaving at 11 o'clock but anyone who wants to come down anytime from 9:30 to 10 because we'll be getting breakfast".
He says of the event; "We do it over two days, we leave Fenagh in Carlow and go to Dungarvan where we stay in the Park Hotel and then the second morning we leave the Park and we go on for the halfway in Cork where we park the tractors that evening, then they're all loaded up the next morning and brought home by lorry".
And it seems it's all about the number 50 this year with Mr Morrissey noting "Everyone knows somebody that has a child or had a child above in Crumlin and they do great work up there with all the kids so we said it was a worthy cause and what better cause then kids to support, this year we have 50 tractors and we actually have a Honda 50 as well".