Budget 2015 – The Main Points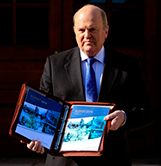 CIGARETTES: From midnight tonight there will be a 40cent increase on a pack of 20 cigarettes, with a proportionate increase on other tobacco products.
====
UNEMPLOYMENT: Minister for Finance, Michael Noonan has announced that unemployment next year will average just above 10%.
====
ALCOHOL: Excise duty on the price of alcohol will not increase in 2015.
====
FUEL: There will also be no increase in excise duty on either petrol or diesel.
====
MOTOR AND VEHICLE REGISTRATION TAX: Motor and Vehicle Registration tax will see no increase.
====
INCOME TAX: There will be a cut of 1% on the top rate of income tax bringing it from 41% to 40%. The Standard Rate Band for Income Tax is also going to be increased by €1,000 to €33,800 for a single person.
====
UNIVERSAL SOCIAL CHARGE: The entry point to the Universal Social Charge is to increase to just above 12,000euro which will completely remove 80,000 low-income workers from the charge.
The 2% rate will be reduced to 1.5% while the 4% rate will be reduced to 3.5%. There will also be a new 8% rate introduced on incomes above 70,000euro and 11% rate on those earning above 100,000euro.
====
WATER CHARGES RELIEF: There will be a standard rate of 20% for all households up to a maximum of 500 per year, giving savings of up to €100 per annum to households. The household benefits allowance has also been increased by €100 to alleviate the cost of water charges. This is also to be extended to everyone on fuel allowance schemes who do not get the household benefits package.
====
CHILD BENEFIT: There will be an increase of €5 per child in 2015 and an increase of another €5 in 2016.
====
BACK TO WORK FAMILY DIVIDEND: Families will be able to retain the full Qualified Child Increase of €29.80 a week per child for the first year of returning to work. This will then decrease to 50% for the second year.
====
HEALTH BUDGET: A budget of €13.1billion has been allocated for the delivery of health services in 2015.
====
EDUCATION: €8.3 billion has been allocated to Education for 2015 with €530 million as Capital Expenditure. This budget will provide for an extra 920 mainstream teachers, 480 resource teachers and 365 Special Needs Assistants.
====
JUSTICE: The Department of Justice has been allocated €2.2 billion for 2015 which will allow for the recruitment of new Gardaí.
====
LIVING ALONE ALLOWANCE: The Living Alone Allowance will be increased to €9 a week which will benefit 180,000 older people from January 2015.
====
CHRISTMAS BONUS: A Christmas Bonus of 25% will be paid to welfare recipients this year with hopes to make similar payments at Christmas 2015.
====
SOCIAL HOUSING: An overall capital investment of €2.2 billion has been allocated for social housing between now and 2017: €1.5 billion direct provision by the Exchequer by 2017, €300 million in PPPs and €400 million "off-balance-sheet financial vehicle".
====
PUBLIC SERVICE RECRUITMENT: There will be no further cuts in Public Service Employees. Starting in 2015, Departments will have discretion on staffing levels within the overall pay framework. 2015 will also see a new recruitment to the Civil Service.
====
CORPORATE TAX: There will be no change to the current rate of Corporate tax as it remains at 12.5%. The so-called 'DOUBLE IRISH' loophole in the corporate tax system is to be abolished from January 1st 2015 for new companies and it is to be phased out for existing companies by the end 2020.
====
DEFICIT: The deficit in 2014 will beat the Troika target of 5.1% instead reaching 3.7%.
====
GROWTH: The growth prediction for 2015 is 3.9% and 4.7% for this year.
====
EXPENDITURE: The Gross current expenditure will be €50 billion for 2015. This sees an increase of €429 million on the 2014 revised estimates.
====
CAPITAL EXPENDITURE: There will be an increase of €210 million in capital expenditure in 2015 to over 3.5billion euro.
====
HOMELESS: An extra €10million has been allocated for the provision of accommodation and related services for homeless persons in 2015 which will bring the total budget in that area to €55.5million.
====
FARMING: 50% increase in the income tax exempt thresholds as well as new thresholds for leases of 15 years and over. This will remove the age cap of 40 years old for leasing relief.
The Capital Acquisitions Tax is to be targeted to active farmers and stamp duty will be removed from agricultural leases over 5 years.
====
MARINE: A new tax package is to be developed for the marine sector which will be similar to that of the agriculture sector.
====
FILM: A film tax credit scheme will go ahead in 2015 with hopes to increase the cap in 2016 which is currently at €50million.
====
TOURISM VAT: The VAT rate on tourism is to remain at 9%. However, this comes with a warning to the tourism industry that should there by any price increases, this will be reconsidered.
====
PENSION FUND LEVY: Minister Noonan has confirmed the end of the 0.6% levy at the end of 2014 but the additional 0.15% introduced for 2014 and 2015 will remain.
====
HOUSING / HOME RENOVATION SCHEME: From midnight tonight until the end of 2015, the Home Renovation Incentive Scheme is to be extended to rental properties whose owners are liable to income tax.
====
DIRT/FIRST TIME BUYERS: From tonight until the end of 2017, there will be a refund of DIRT on savings used to buy a home for First Time Buyers. The maximum refund will be 20% of the purchase price.
====
Check back here throughout the afternoon for all your budget updates as they happen.
Don't forget, between 6 and 7 o'clock we have a Budget Special on The Way It Is, with a panel of experts breaking down the various elements of Budget 2015.