Featured
KCLR News
News & Sport
Carlow and Kilkenny under Orange weather warning
Schools and creches are asked to not open until at least 10am Monday while Bus Éireann will not be running morning school transport services in counties under Red or Orange warnings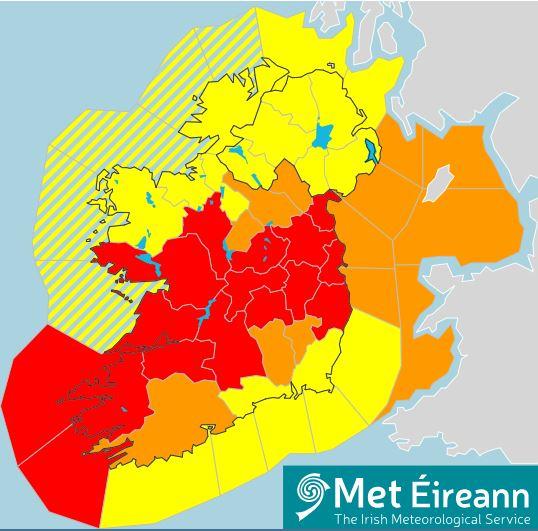 Carlow and Kilkenny are among the counties falling under an Orange weather warning issued this evening.
It takes effect overnight, at 2am Monday, and continues to 10am with a Status Yellow for Wind & Rain taking over until 3pm.
Some neighbouring counties have had their weather warning upgrade to red – including Laois, Kildare, Wicklow, and Tipperary: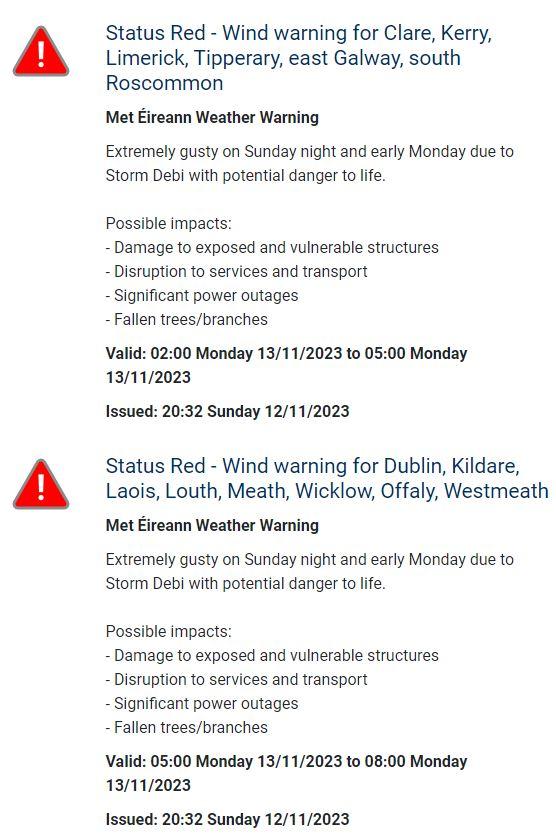 The National Emergency Co-ordination Group met earlier to discuss the best response to take as Storm Debi closes in on Ireland and the county councils in both Carlow and Kilkenny have teams monitoring the situation locally.
Widespread power outages (ESB updates here) and dangerous travelling conditions are expected in some of the worst affected counties where people are being asked to work from home if they can.
Adult disability services have been contacting families regarding local arrangements while schools and creches in the counties affected by red or orange warnings are advised to close until 10am Monday, with some locally opting for an 11am start to allow staff time to get in safely.  For Coáiste Eoin in Hacketstown there's a 10:10am start, for Borris Vocational School first class is at 10:30am.
Bus Éireann will NOT be running morning school bus transport services in counties affected by Red or Orange warnings.
Added to that, the Department of Transport has initiated its severe weather protocol so you need to check the relevant public transport providers websites for disruptions to services.  Including Iarnród Éireann/Irish Rail, Bus Éireann, JJ Kavanagh & Sons, Kilkenny City Bus, Carlow Town Bus.
CLOSURES
A number of other facilities will be closed on Monday (13th Nov) as a precaution, including:
Keep up to date with what's going on by checking reliable weather sources including Met Éireann, Carlow Weather and Kilkenny Weather as well as media outlets.
So, stay tuned for updates, in particular to KCLR Breakfast with John Walsh from 7am and if you've information or photos to share please text or Whatsapp to 083 306 96 96.