KCLR News
Carlow IFA Chairman says presidential election needs to be soon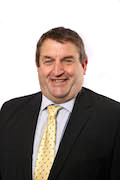 The Carlow chairman of the Irish Farmers Association is warning against any delay to the election of a new president.
Derek Deane – who is remaining coy about whether or not he will run – says he's happy with the outcome of Con Lucey's review of pay and pensions at the organisation.
It found former General Secretary Pat Smith was paid almost a half a million euro a year and received a pension top up of 1.2 million euro in 2011.
Derek Deane says if a new president isn't appointed soon, there'll be questions about whether they need one at all.