KCLR News
News & Sport
Carlow & Kilkenny people asked to Wear, Care & Share for GOAL
The aid agency's annual Jersey Day takes place this Friday (9 October)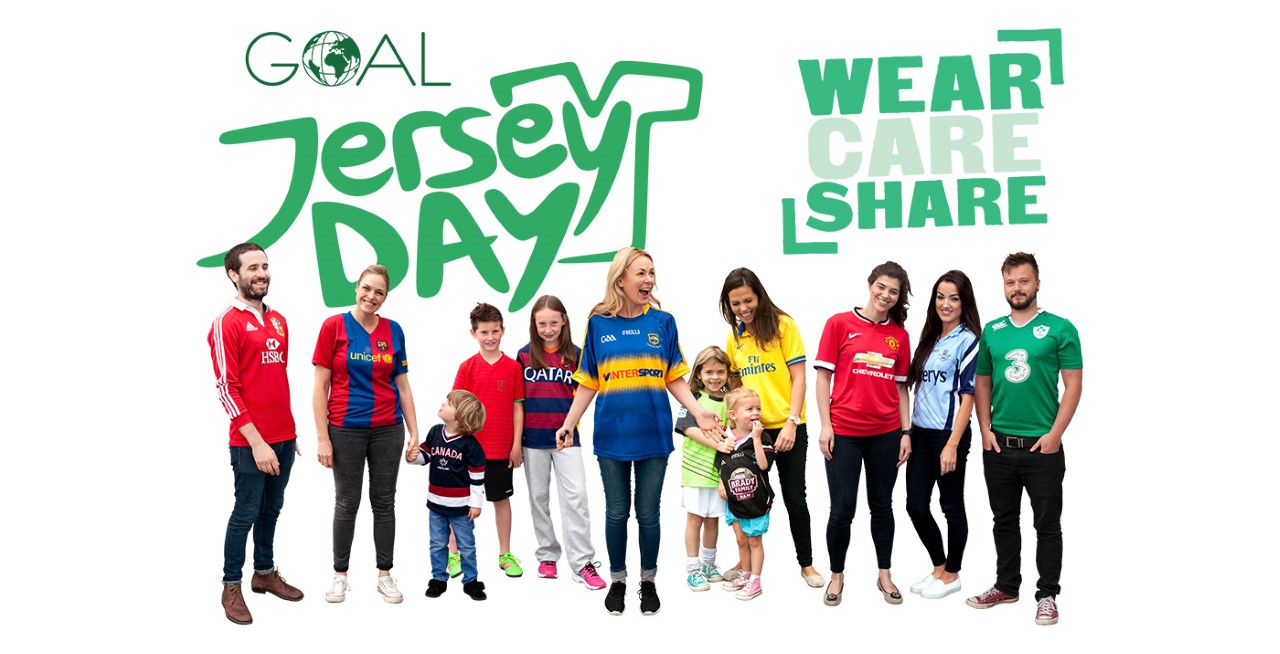 You're being invited to show your true colours this Friday for the annual GOAL Jersey Day.
Choose your county's combination, your favourite soccer side's shades or any team's tones that takes your fancy.
Kilkenny woman Miriam Donohoe is Senior Communications Manager with the humanitarian aid agency and says it's easy to take part and worthwhile too noting "It's really, really important because the money raised go towards supporting the work of GOAL in 13 countries around the world and we supported 6,000,000 people in massive need last year and it's a very simple format we invite people in schools and people in workplaces to put on their favourite jersey, it could be their favourite county team, their provincial jersey, their country jersey, to wear it proudly for a day and donate to GOAL at the same time".
Due to Covid-19 restrictions around fundraising events support for Jersey Day is more important than ever. The slogan for this year's popular event, which is in partnership with sportswear company MCF, is Wear, Share and Care.
To celebrate the partnership with MFC, schools participating in Jersey Day will be entered into a competition to design and win a set of jerseys for a sports team in their school. All schools who participate in Jersey day 2020 will be automatically included in the draw to win this unique prize. The winning schools will be announced on 23rd October.
It's not just schools & workplaces that are being asked to take part as Miriam explains "We are doing a big push on encouraging remote workers to take part & to get into the spirit of Jersey Day even if they're at home on their own in their homes, put on the jersey, get on a zoom call with your colleagues , if you don't have a jersey get a zoom background with your favourite country or your favourite colours and have a bit of fun, have a cup of tea, a cup of coffee and you can have a good old discussion as well about what team is going to win the Championship this year, will we have an All Ireland this year or whatever so that's the whole theme of it".
And why should we participate? Miriam has the answer saying "Here in Ireland and in developed countries where we have sophisticated health systems, social welfare systems, where we can pay workers who are in a restriction situation, in the countries we work in it's a completely different scenario, health systems are virtually non-existent, the idea of socially distancing for example isn't possible with people living in refugee camps, people living together in very small spaces, hand washing when there's not access to clean safe running water is impossible".
She adds "We need the support of the people of Ireland more than ever to continue with this really, really important work so we're really appealing to everybody this week, on Friday, to have an extra thought for people, I know we're in another Level Three situation, a semi lockdown in Ireland, but we really don't have any idea, you know what the circumstances are like for people in fragile states and fragile countries, so spare a thought for them put on your jersey, have a bit of fun & support GOAL at the same time".
Already in 2020, GOAL has reached over 17 million people with Covid-19 supports and messaging in Africa, the Middle East and Latin America. The Covid-19 crisis has had a devastating impact on the world's poorest countries, with millions losing their income and few receiving government supports.
To sign up to GOAL Jersey Day, please visit www.goalglobal.org/jersey-day/ and don't forget to tag online posts with #GOALJerseyDay
For more information on GOAL's work see www.goalglobal.org