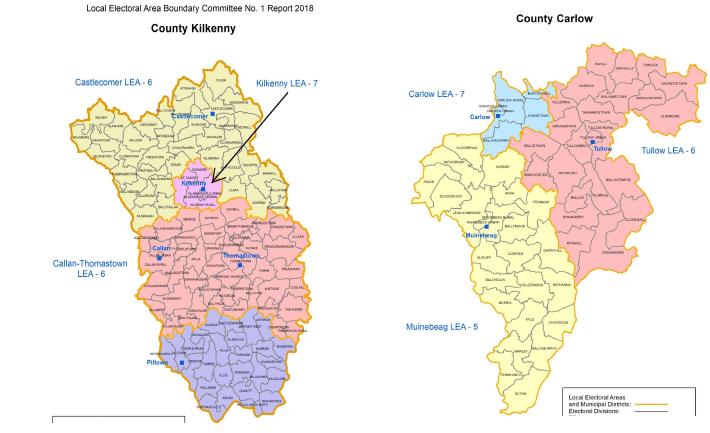 A lot of the changes to the electoral boundaries within Kilkenny don't make any sense.
That's the consensus of a lot of local councillors after they were announced this week.
The voting areas in Kilkenny are now Kilkenny City, Thomastown, Castlecomer and Piltown, and in Carlow they're Carlow Town, Tullow and Bagenalstown.
Bennetsbridge Councillor Patrick O Neill is currently in the Kilkenny City Municipal District but will be moving to the Thomastown area now.
And he says he's surprised by how the committee drew up some of the boundary lines:
"The issue I would have with them is now you have three parishes split; you have Clara and Dunbell split up, you have Gowran and Dungarvan split up, and you have Tullogher and Rosbercon split up.
"It doesn't really make sense because because all the community groups in all these parishes will be working in two areas now which makes it quite difficult for funding or roads allocations etc. It makes it really difficult for people in those areas."
Carlow Councillor Jim Deane says he thinks the whole thing was a waste of money.
And he says it will mean some changes for him and others.
Meanwhile, it looks like Fianna Fáil's Peter Chap Cleere will be the last mayor of Kilkenny who lives outside the city itself.
The Skeoughvosteen councillor was elected to the position yesterday evening.
Speaking to KCLR News this morning he says it is a privilege for him.