KCLR News
News & Sport
Former Taoiseach Bertie Ahern with ministers of state Jack Chambers and Kieran O'Donnell due in the Carlow Kilkenny area today
Chair of Kilkenny County Council, Cllr Pat Fitzpatrick, is the AILG President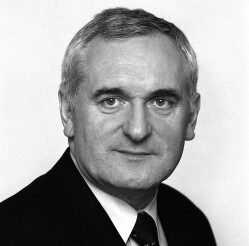 The Association of Irish Local Government's annual conference is continuing in Kilkenny today.
300 delegates have been attending the event since yesterday evening.
Former Taoiseach Bertie Ahern is one of the main guest speakers with Ministers of State Kieran O'Donnell and Jack Chambers – it's understood the latter will begin his local visit by starting in Carlow this morning before moving onto Kilkenny.
Chair of Kilkenny County Council, Cllr Pat Fitzpatrick, is President of the AILG.
Speaking on The Way It Is last evening Bertie Ahern addressed claims he's running for President of Ireland.
While he spoke too about the work councillors do, saying it's is very important and crucial in Irish politics.
Hear his conversation with our Sue Nunn in full here: