Featured
KCLR News
News & Sport
The investment will also protect the current 27 jobs in the business
The investment will also protect the current 27 jobs in the business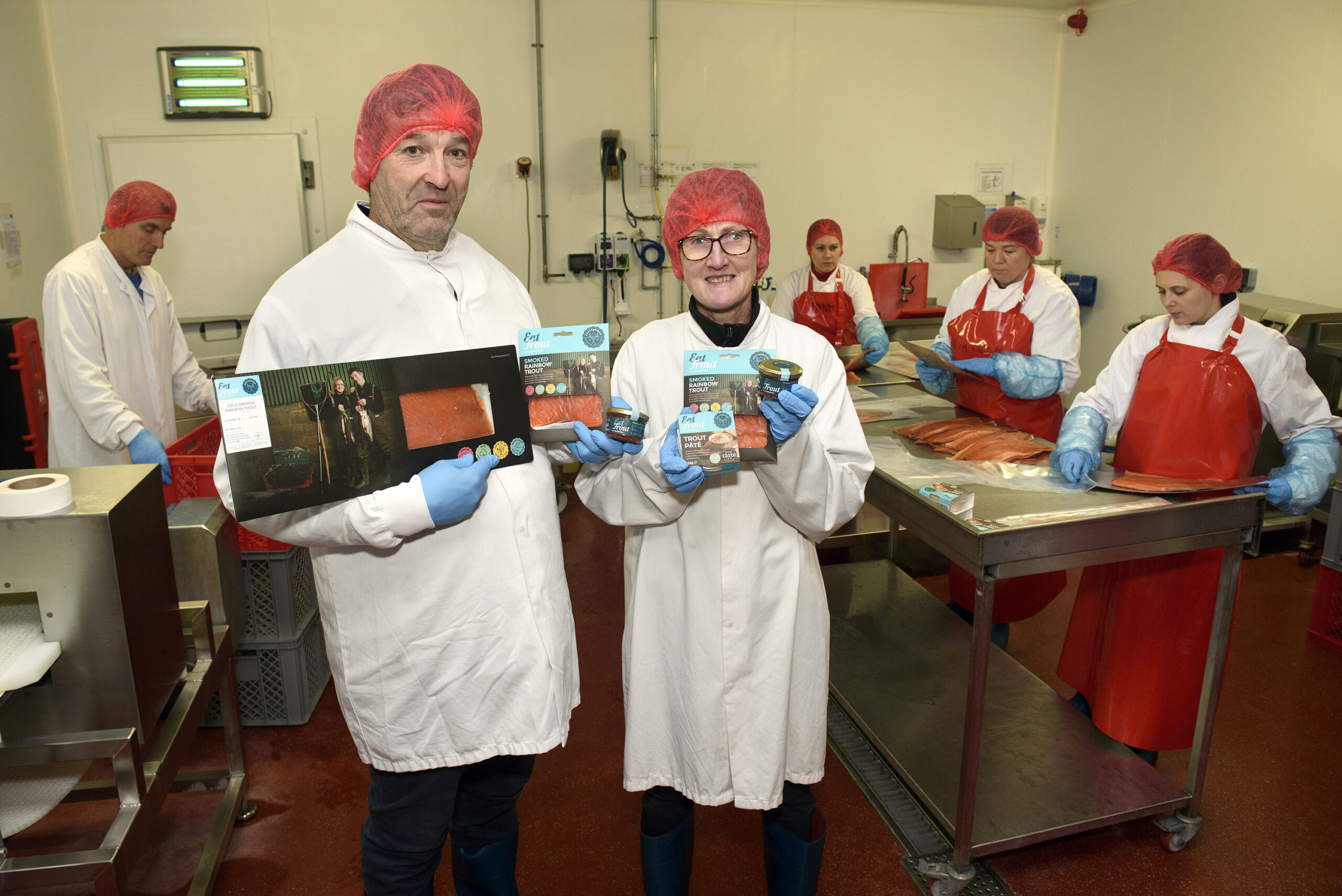 Goatsbridge Trout Farm has completed a €1.68 million investment which will see it improve efficiencies and increase production of its popular trout products at its Thomastown, Co. Kilkenny, base.
The investment was supported with grant aid of €666,540 from the Brexit Processing Capital Support Scheme and the Brexit Sustainable Aquaculture Growth Scheme, administered through Bord Iascaigh Mhara (BIM).
The two schemes combined will deliver up to €65 million in funding to the Irish seafood processing sector. Both are funded by the European Union under the Brexit Adjustment Reserve, and are recommendations of the Seafood Taskforce established by Minister for Agriculture, Food and the Marine, Charlie McConalogue T.D.
Mag Kirwan, who runs Goatsbridge with her husband Ger, said the investment – which included a factory extension, upgrading and introducing new state-of-the-art production lines and introducing solar panels – will transform the business which produces smoked trout, trout pâté, fish chowder and Ireland's only caviar made from trout roe.
The investment will also protect the current 27 jobs in the business and hopefully increase the numbers employed in the next year.
"We are delighted with the new development. These upgrades will ensure greater production efficiencies and standards, as well as increasing our capacity to develop further value-added products," she said. "It will also improve energy efficiency. As well as solar panels we have upgraded existing doors to improve temperature control in the production area, and added a blast chiller to improve the processing of products including caviar."
According to Mags Kirwan the investment will pave the way for the business to pursue its strategy to produce more high volume, high margin products to allow for increased domestic and overseas sales.
As well as being available in Irish retail outlets all over the country Goatsbridge products are on sale in 400 Sainsburys outlets in the UK. Recently the company landed a deal to stock its popular products through the Ocado online food company in the UK. Goatsbridge is currently pursuing exports further afield with negotiations underway for a possible listing in the Dubai-based Spinneys supermarket and grocery chain which has more than 65 locations across the UAE.
The new Solar panels will radically cut down on Goatsbridge's energy costs. "Due to climate change over the last number of years we find the temperatures in the water are higher and the water levels are lower, especially in the summer months. If we do not allow for more oxygen and water recirculation our production capacity will be greatly reduced. But this takes up a lot of energy and the solar panels will have a big impact here."
"We aim to become carbon neutral in the coming 3 to 5 years. We want to be sustainable not just from a business point of view, but more importantly from an environmental point of view. We want to protect what we have for generations to come." said Mag.
She said the support of BIM and the Brexit Processing Capital Support Scheme has been immense. "The scheme was the trigger we needed to bring our business to a new level. This support has been vital in helping us to innovate and grow. It is particularly beneficial in the current climate with costs rising. I strongly believe it is when you are feeling fearful that it's time to be brave and make changes."
In recent years, Goatsbridge has focused on adding value to its highly sought after trout products. As well as suppling to the Irish retail and hospitality markets, and starting sales into the UK, it also supplies to wholesale which forms a large part of the business. Online sales are being developed.
BIM CEO, Caroline Bocquel, said: "It is great to see at first hand the positive impact of the Brexit Processing Capital Support Scheme on fish businesses including Goatsbridge. Mag and Ger have been true champions in the Irish seafood industry for almost 30 years and are constantly adapting and innovating and seeking to be more efficient." 
In 2012, Goatsbridge developed Ireland's first ever caviar – trout caviar – with support from BIM. Caviar is salted fish roe or eggs and regarded as a delicacy.
Goatsbridge Trout Farm was started by Ger Kirwan's father, Padraig, in 1961 when he created the first fish ponds on The Little Arrigle River in the heart of the Nore Valley. Ger and Mag took over the business in 2002.