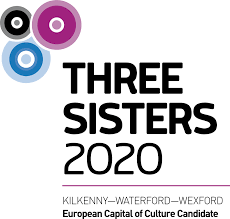 The people who'll decide if Kilkenny, Waterford and Wexford are successful in their bid for the Three Sisters European Capital of Culture 2020 are in the area today.
They'll visit the three counties ahead of announcing the winner on July 15th.
Two panellists, Sylvia Amman from Austria and Christina Farinha from Portugal will do a one day visit taking in as many areas as possible.
They start with a visit to Wexford National Opera House, then head on to Waterford City Hall and the Spraoi International Street Arts Festival workshop.
In Kilkenny they'll be going to the Collective for arts talent in Callan amongst other places and will finish at Kilkenny National Craft Gallery with the Presentation Girls School Choir performing a farewell recital.
The winner of the European Capital of Culture will be announced this Friday July 15th however the three sisters are also going up against Galway and Limerick for the title.