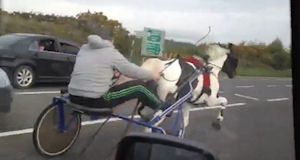 Sulky-racing is now illegal in Kilkenny.
A motion was put before Kilkenny County Council a number of months ago by Cllr Andrew McGuinness to ban sulky-racing on the roads.
At a council meeting yesterday the motion went through the final stages and was passed unanimously by council members.
It will come into effect in 30 days and Cllr McGuinness told KCLR that a number of other welfare measures also form part of this law.