KCLR News
News & Sport
Carlow Councillor claims a whole local estate's in fear due to antisocial behaviour by some local authority tenants
Council CEO Coilín O'Reilly said the situation sounded 'horrific' but such incidents must be reported to An Garda Síochána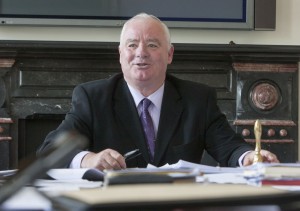 A Carlow councillor says a whole local estate is in fear and it's not good enough.
John Pender told the monthly meeting of the county council that it can't stand idly by while antisocial behaviour is being carried out by some local authority tenants.
Cllr Pender refused to state which area he was speaking about due to residents' fears of retaliations – something he told KCLR News he too would be concerned about, saying; "I'm afraid of repercussions but I was contacted today by a family who are absolutely living in fear because of the activities of their neighbour, or neighbours, these are in a local authority house and there seems to be no law and order at all in this situation now I'm delighted that the Director of Services here took on board my comments and is going to act to see can something be done to resolve this".
Council CEO Coilín O'Reilly said the situation sounded "horrific" for those involved but added such incidents must be reported to An Garda Síochána.
Cllr Pender says; "I'm sure the gardaí have to be involved, or at least should be involved, because some of the activities would be certainly deemed to be breaking the laws of this land so, you know, it's a cooperation of both but I don't think any other private landlord would tolerate the activities of some of the tenants in this county, we're going to have to get tough here because it's not fair to all of the people and we've many fine people paying their rents and living and getting on with their lives, not causing any of their neighbours trouble and this has to stop".