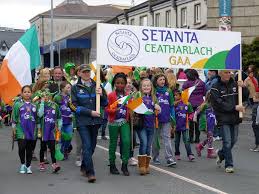 The details of Carlow Towns St Patrick's Day Parade have been revealed.
This year the theme is "Love Carlow" and floats make a welcome return to the streets.
The organising committee of the Carlow St Patrick's Day Parade are looking for those looking to take part to get in touch.
The Parade takes place on Friday March 17th with everyone assembling at 2.30 with the parade moving off at 3.30.
To allow for the inclusion of floats in the parade this year and to address health and safety concerns, strict guidelines have been drawn up this year.
They include a rule that articulated lorries are not permitted and that short ridge vehicles measuring 7-9 metres in length, max width 2.5m and max height 3m will be permitted .
Floats must be safe and fully insured and each float must be accompanied by 4 stewards wearing high viz jackets.
The parade will move along along Kennedy Ave, Barrack St, Tullow St, Burrin Street to finish at Water Lane Car Park.
The review stand will be outside Teach Dolmain on Tullow Street.