KCLR News
News & Sport
"Do not worry… I'll be going to a much better place": Letter by executed Kevin Barry up for auction locally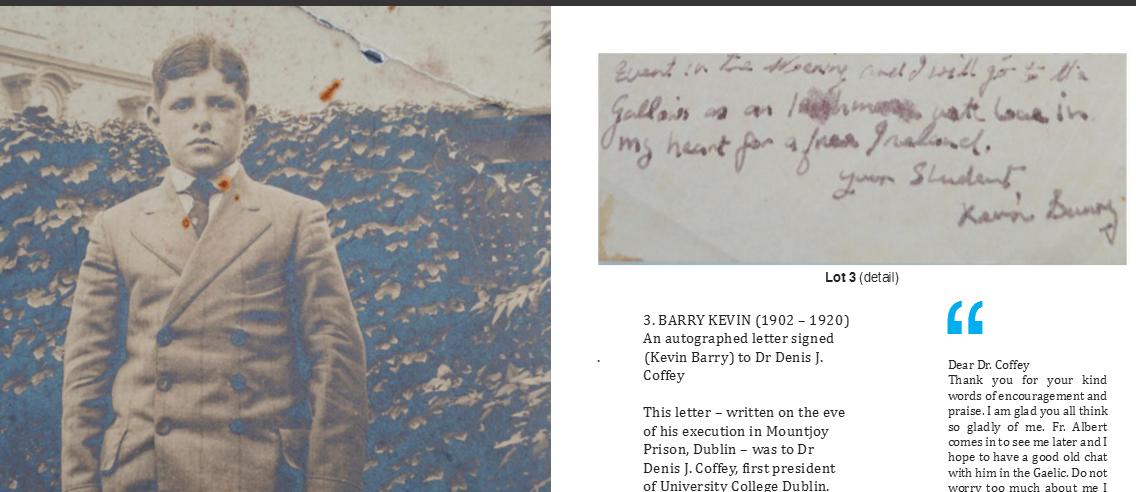 A letter written by a young man with strong Carlow connections on the eve of his execution is expected to fetch up to 30,000 euro at auction.
Kevin Barry – who went to school in Rathvilly, and whose family owned a farm in Carlow – was just 18 when he was executed in 1920 for his involvement in the ambush of three British soldiers.
Now a letter that he wrote from his cell in Mount Joy has emerged and will be going under the hammer of Sheppard's Auctioneers in Durrow on the 3rd of May.
Speaking to KCLR, Philip Sheppard says it was written to his tutor in UCD, Dr Coffey who had called in to visit him:
"In his letter, Kevin Barry states that he thanks him for his 'kind words of encouragement and praise.' He said 'I'm glad you all think kindly of me. Fr Albert comes in to see me later.'
"Fr Albert was a Capuchin friar who was a chaplain to a lot of 1916 leaders and afterwards. And he hoped to have a good old chat with him in Gaelic.
"He said, 'Do not worry much about me. I'll be going to a much better place. Tell my fellow students to say a prayer for me and tell them I will miss them.'"