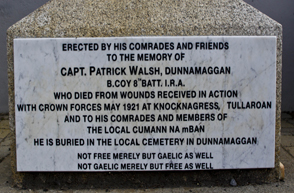 As centenary celebrations continue across the country, the community of Dunnamaggin in Kilkenny are remembering Pat Walsh today.
Walsh was one of the main organisers of Kilkenny's volunteers and became an officer and captain of the volunteers himself.
This the third day of events being organised by the Pat Walsh committee this easter weekend.
It gets underway at 11am with a special mass with Alter Guard by the O.N.E, an organisation for ex-service personnel of the Irish Defence Services.
That's followed by a parade through the village.