KCLR News
News & Sport
Ballykeeffe Amphitheatre in Kilkenny announces June gigs with tickets out this morning
There's huge excitement locally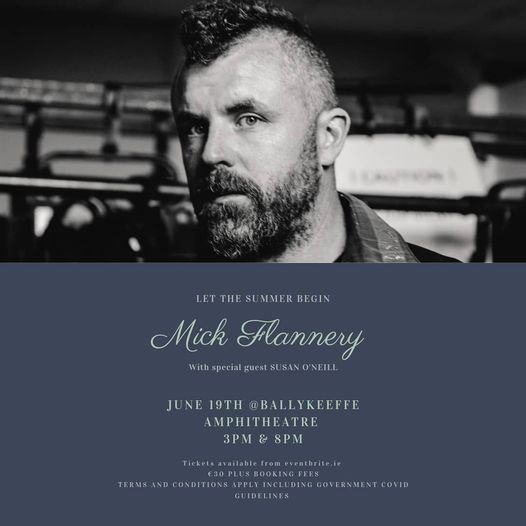 Tickets go on sale this morning for Ballykeeffe Amphitheatre's first gig of the year.
Mick Flannery's been confirmed to play the local outdoor venue on June 19 with special guest Susan O'Neill.
Eventbrite will have passes available from 10am.
Martina Brennan is the PRO for the local facility and has told KCLR News that it's expected the tickets will sell fast "We're absolutely ecstatic, we think they're going to fly out, I think everybody has just been waiting for this to happen for an event for a gig so people can get out and have a bit of fun so yeah we're hoping they're going to fly out, we've kept our numbers very low so it will only be 100 for each event".
She adds "We've done a huge Covid plan to make sure everybody's safe, we're very confident that we can keep everybody that comes to the event safe and happy, there won't be a bar, we're not running a shop like we normally would but we're just really happy that we can run an event that people can have something to look forward to".
Of the year where the gates could not be open for live events, Martina notes "As you probably know Ballykeeffe is volunteer-run and so a year without it for the volunteers although it's not our jobs, we've missed it terribly, we did try to put on two events last year but at the very last minute, unfortunately, they were cancelled but we're just delighted to be able to put something on, it's not a money-making exercise for us at all really, we'll be lucky if we break even but it's just to be able to put something on after the tough year everybody's had".
And she teased that there are other names in the mix "Oh, well you'd have to kill me first before I tell you but yeah we're hoping to have a fun-packed, fun-filled summer ahead of us in Ballykeefe".
For more click here