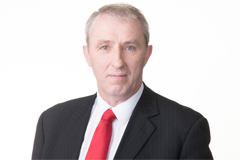 Carlow Labour Councillor Willie Quinn is the only party-member to have put his name forward for the party's selection.
Today was earmarked as the deadline for hopefuls to throw their names into the mix but it would appear that Councillor Quinn is the only one going before the selection meeting this weekend.
He will be officially declared Labour's by-election candidate at their convention on Sunday night in the Lord Bagenal in Leighlinbridge.
He'll now be joining the race with Green Councillor Malcolm Noonan, Sinn Féin Councillor Kathleen Funchion, Independent Councillor Breda Gardner, Fianna Fáil's Bobby Aylward, the Anti-Austerity Alliance's Conor Mac Liam and the People Before Profit's candidate, Adrienne Wallace.
It would appear the date for the vote will be on the 22nd of May.