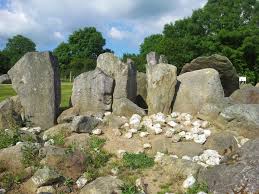 While the Winter Solstice at Newgrange may have been a bit of a wash-out this morning, it's hoped the skies will stay clear for Knockroe Passage Tomb in Kilkenny.
3.45 is the time when the sun is expected to shine on the tomb on the Kilkenny/Tipperary border this afternoon.
In recent years those involved with the conservation have been fighting attempts to install wind turbines near the site.
And Pete Smith of the Suir Valley Environmental Group says they'll also be fundraising for this effort today.