Trees: From Seed to Sawdust
There are so many benefits to trees.
It's lovely to take a walk among them, they provide a home for wildlife, they have a role to play in our economy and they are an important part of Ireland's response to climate change.
Trees:  From Seed to Sawdust is a 20-part series that explores the role of trees in our lives and the benefits they bring.  It is funded by the Department of Agriculture, Food and the Marine as part of the Woodland Support Project.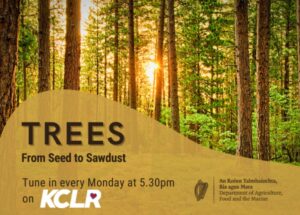 In this programme, recorded at Teagasc Oak Park research centre in Carlow, Frances McHugh, Forestry Advisor and Ian Short, Dheeraj Rathore and Oliver Sheridan, research scientists, talk about how the
Read More »