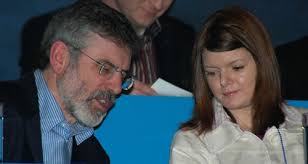 The leader of Sinn Fein has high praise for his party's candidate for the upcoming by-election in Carlow Kilkenny
Gerry Adams is in Kilkenny tonight to help launch Kathleen Funchion's bid to win Phil Hogans empty Dáil seat in May.
President Gerry Adams, vice President Mary Lou McDonald and Deputy Pearse Doherty are getting behind Kilkenny Councillor Kathleen Funchion as she bids to join them in Leinster House as the new TD for Carlow-Kilkenny.
The party made significant gains in the local elections last year going from 2 to 6 elected members on the local councils.
Gerry Adams told KCLR ahead of tonights event that Councillor Funchion is in a good position going into this by-election.
And he says the party will be fully behind her.
Newpark hotel hosts the launch of the party's by election campaign from 8 tonight.