KCLR News
News & Sport
Green Minister says Pascal Donohoe needs to be given the benefit of the doubt
The Minister for Public Expenditure is due to make a statement in the Dail on Tuesday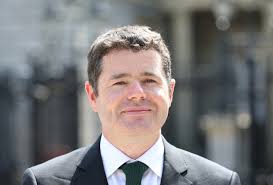 A local Minister says he's looking forward to hearing Paschal Donohoe clear up the controversey surround his election expenses and his dealing with businessman Micheal Stone.
In a statement to the Dail on Wednesday Minister Donohoe said that during a review "in recent weeks" he was made aware for the first time that "a personal payment" of €1,100 had been made to workers who put up election posters in 2016.
The Public Expenditure Minister will not be able to make any further statements or answer questions until next Tuesday due to Dail proceedures.
The Green Party's Malcolm Noonan says Minister Donohoe has to be given the benefit of the doubt until then because of the service he has given the country.
"He is an exceptionally hard worker, he's done exceptional work for this country over his terms as finance minister and now in public expenditure, I think due process has to be given it's course and he will give his respone in the Dail next week and I look forward to it"