Last updated Tuesday, 3pm
Concerned? Tweet us, Facebook us, text 083 3069696 or call 1890 90 9696.
All schools and education institutes in Kilkenny and Carlow are reopening tomorrow, Wednesday.
IT Carlow & Waterford IT are both open but ask that people travel only if safe
Can't get us on your radio? Listen live here online.
Track Hurricane Ophelia
Traffic & Travel Updates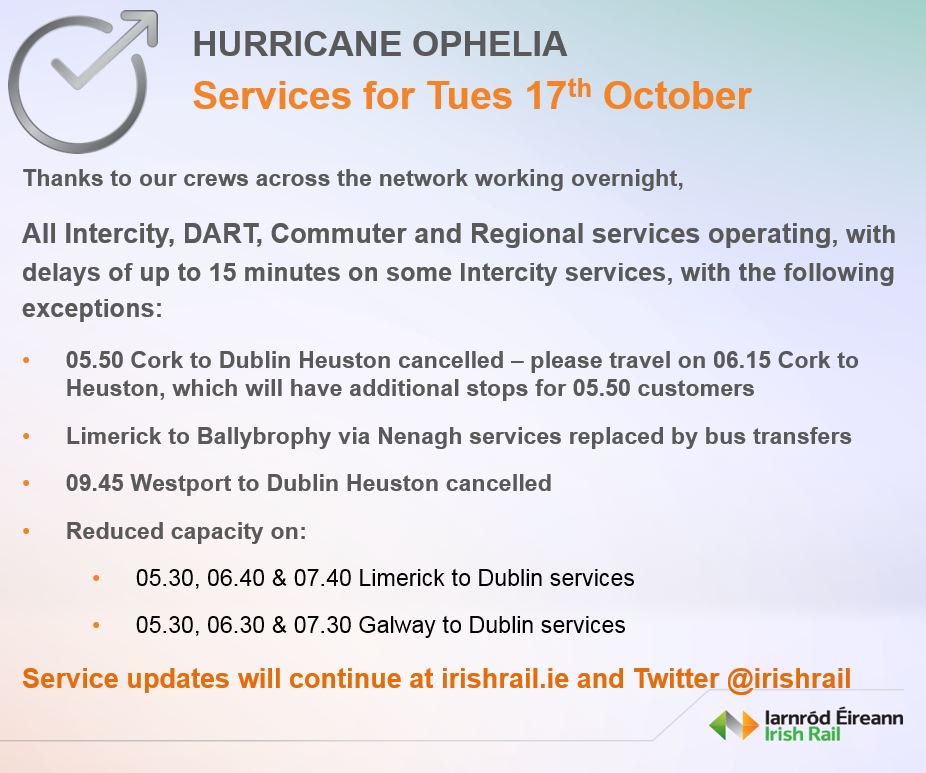 The majority of Bus Éireann services are running but some may be disrupted – details here
Most JJ Kavanagh Bus services are running – details here
Luas services on Red & Green line are not running until 5:30am Wed, Oct 18 – details here

KILKENNY

Works are ongoing to clear significant blockages from fallen trees and power lines at the following locations:
·         Rathpatrick  – Power lines, ESB crew required

·         R703 Thomastown to Graiguenamanagh – tree surgeons required

·         Stoneyford to Thomastown at Norelands – 3 separate crews working to remove 8 large fallen trees

·         Ballintlea Mullinavat – Power lines, ESB crew required

Due to Storm Ophelia & power outages experienced at Lagan's asphalt batching plant the scheduled works on the N78 are postponed until Wednesday, October 18.  It may be required to extend the Road Closure into next week as a result. This is subject to weather conditions for the remainder of the week.

CARLOW: 
All main and secondary roads have now been cleared, according to the county council.
Power & Water Issues
ESB
Many ESB customers across Carlow & Kilkenny are still without power. There's no estimated restoration time for any of the outages.  For updates click here
Advice is to stay away from fallen power lines as they may be live. If you become aware of any emergency situation involving power lines call the ESB immediately on 1850 372 999 or +353 21 2382410. This service to be used only in the event of imminent danger.
Irish Water
There are extensive power outages affecting treatment plants and pumping stations which for the most part have not impacted water supplies due to a combination of reservoir storage and backup generators on the more critical supplies. However, there are communities without water.
There area limited number of small supplies where precautionary Boil Water Notices have been notified due to treatment risks, associated with power failures affecting the disinfection of plants.
There are also some power outages at wastewater plants and pumping stations resulting in discharge of untreated or partially treated sewage. Rainfall levels have been manageable and there are no reports of serious flooding on the networks.
Irish Water are working closely with ESB to help prioritise those schemes where power restoration will be most urgent in order to avoid loss of supply on a greater scale.
Carlow
As of Tuesday evening, there are four areas currently experiencing water outages: Ticknock, Nurney, Bilboa and Craan, Kildavin.
Water tankers are now in place in Nurney, Bilboa and Ticknock, while a tap has been installed in Craan, Kildavin.
They are working to restore all supplies affected by the storm as quickly as possible. In the meantime they ask that customers who have a water supply conserve their water.
Kilkenny

Between water tankers and stand-pipes all areas of Carlow and Kilkenny should have access to water.
That's according to both county councils as the electricity to a number of water plants still hasn't been restored.
A 10,000 litre water tanker has now been deployed from the Defence Forces Training Centre to Killmagany in Kilkenny.
Elsewhere, around the county Castlecomer, Graiguenamanagh, Bennetsbridge, Mooncoin, Thomastown, Callan, Mullinabro, and Owning are now back in operation.
Tim Butler from Kilkenny County Council says those of you in the places still without electricity should still have access to water.
A generator has been installed at Inistioge, Glenmore and in Outrath, while another two water tankers have been sent to Gowran and Paulstown because the reservoir there has not had a chance to replenish after losing power yesterday.
All customers are requested to conserve water to the maximum possible extent to ensure continued supply for as long as possible.
If you have issues with your water supply please see here , visit twitter at @IWCare or call 1850 278 278 (only if there's an emergency)
Kilkenny County Council
The local co-ordination group met again this morning in regard to cleanup operations after storm Ophelia. Crews are out since early morning and works continue to clear roads, safeguard and reinstate water supplies and remove debris throughout the county.
Kilkenny County Council would like to thank all the agencies on the local coordination group for their help and assistance during yesterday and today, including Gardaí, HSE, Civil Defence and the Defence Forces. Defence Force personnel are currently assisting with the clean up in Kilkenny City and Thomastown.
The local authority also thanks the public for their co-operation and support in heeding warnings and reporting storm related issues throughout the day yesterday.
The contact centre remains in operation until close of business today to deal with storm related calls at 056-7794145.
Carlow County Council

Outside of office hours & emergency calls in relation to weather-related issues should be made to the normal Council number of 059 9170300 where instructions will guide people through to the Council's Out-of-Hours call service. 
Help
A Kilkenny based company is offering free roof repairs to old age pensioners tomorrow.  Contact Martin 086 9886596 at Delahunty Building and Maintenance.
Rough Sleepers
A temporary contingency plan has been put in place by Kilkenny County Council, through the Gardai and homeless service providers, to make shelter available for people sleeping rough today and tonight during the severe weather. Contact: Good Shepherd Centre at 0567722566 or 0871225967
The Hostel on Kilkenny Road in Carlow is open for any homeless people in the county.
Schools & Education
As per the Department of Education on Monday afternoon all schools in Kilkenny and Carlow will be closed on Tuesday, October 17
Also:
– The O'Neill Centre in Kilkenny is open but no buses are running for the centre
– Holy Angels Daycare Centre in Carlow & Hydrotheraphy facility are closed
– RehabCare & national learning network centres are closed
Colleges:
– Ormonde College, Kilkenny is closed
– IT Carlow & Waterford IT are both open today however ask that people travel only if safe to do so
Creches:
Closed today:
Urlingford & Johnstown creche
Play & Learn Preschool Bagenalstown
Scoil mhuire & bishop foleys in Carlow town
Muckalee Community Creche
Chatterbox playschool Tullow
Kells community crèche
Little Steps at Forward Steps Tullow
Naíonra Áras na nÒg
Cheeky Monkeys Crèche
Stepping Stones Childcare Centre creche
The growing patch childcare,Newpark Close
Lisdowney Montessori play and Learn
Cherish childcare services
Clever cats crèche inistioge
Ballinkillen preschool and afterschool
Tots to teens in Tullow
LARC Community Childcare
Leighlinbridge community childcare, will carry out risk assessment this morning as advised by DCYA and then decide on opening, parents are asked to keep in contact with the Facebook page.
Open today:
Hillview Early Learning at Royal Oak, Bagenalstown
Callan Montessori School
Tiny Tots Paradise Creche
Talbots gate creche
Bambinos Creche
Gowran Childcare Montessori Preschool & Afterschool
Bluebells Creche in Robertshill is open with limited service, ECCE sessions cancelled.
Post & Delivery Service
Wherever possible and safe to do so, An Post services have resumed across the country today (Tuesday).
Post Offices: Power and technical outages will result in some Post Offices remaining closed. They are assessing the situation on an office-by-office basis & will post updates on anpost.ie and on Twitter (@postvox) throughout the day.
Letter & Parcel Deliveries: Fallen trees, powerlines and outages are expected to disrupt mail deliveries and collections in many areas today.  They will be assessing the situation and where the roads are safe for staff, and access allows, deliveries will resume to customers.
Hospital / Clinic / Outpatients / Day Services (via HSE)

HSE services in the South East, regarding Tuesday 17th October:
There was a significant impact on the vast majority of health and social care services in counties Carlow, Kilkenny, South Tipperary, Waterford and Wexford due to the adverse weather conditions on Monday 16th October.
Some disruption is likely over the coming days due to a number of factors including road conditions, building damage, power outages and disruption to full staffing levels. Consequently, we can
expect a gradual return to normal services over the next few days. Due to cancelled appointments over the past 24 hours and a subsequent "catch-up"period required, people can expect some delays in their appointments and discharges from hospitals over the next few days.
In the event of a cancellation, people will be contacted by the relevant service. The safety of patients and clients travelling at this time is paramount. In the event that patients or clients deem it unsafe to travel
for an appointment, the service concerned will reschedule this appointment as quickly as possible.
Community services' primary focus will be on dealing with the most vulnerable patients and clients in the first instance. This includes discharging elderly patients, whose discharge may have been delayed due
to the weather, to the most appropriate facilities as quickly as possible.
Regarding Acute Hospital services, the intent is to restore all services over the coming days. It is anticipated that outpatient services will be fully provided today with a small number of exceptions. Unfortunately, given the impact of the weather on the hospitals over the past number of hours it may be necessary to cancel some elective surgery tomorrow. Urgent procedures will be protected and these cases will be prioritised. Should any appointments be cancelled tomorrow, hospitals will be in
contact with those affected.
Hospital Outpatient Appointments
Subject to checking on safe access via roads etc., ensuring everyone's
safety and allowing for other availablities on the day, Oupatient
appointments will proceed as scheduled at the following hospitals:
·         University Hospital Waterford
·         Wexford General Hospital
·         St. Luke's General Hospital Carlow/Kilkenny
·         Kilcreene Orthopaedic Hospital, Kilkenny
·         South Tipperary General Hospital, Clonmel
Please note, if patients are unable to make their appointment, their appointment will be rescheduled accordingly.
Hospital appointments that did not take place on Monday will be rescheduled for as soon as possible.
Scheduled/planned hospital procedures:
Patients who are scheduled to have a planned procedure today Tuesday 17th October should proceed – subject to the above cited consideration regarding safe access via roads etc., ensuring everyone's safety and allowing for other availability on the day.
Please note, if patients are unable to make their appointment, their appointment will be rescheduled accordingly
Should any person be unsure or have questions, please contact:
University Hospital Waterford at (051) 848000
Wexford General Hospital at (053) 9153000
St. Luke's General Hospital Carlow/Kilkenny (056) 778 5000
Kilcreene Orthopaedic Hospital in Kilkenny at (056) 778 5500
South Tipperary General Hospital in Clonmel at (052) 617 7000.
Community Health Services in the South East:
Community services are returning to normal in counties Carlow, Kilkenny, South Tipperary, Waterford and Wexford. People with scheduled times or appointments with community HSE mental health services, such as day services, day hospital or outpatients, please note that all of these
services are proceeding as normal for today Tuesday 17th October.
There will be a phased resumption as regards people attending older persons and disability HSE day services, with services expected to be fully restored by Wednesday.
Following the significant disruption today, it is expected that both Emergency Departments and GP clinics will be very busy today with increased demands on those services. Priority will be given to the most urgent cases.
Social Welfare and Employment Services
All customer appointments with the Department of Employment Affairs and Social Protection are expected to resume today
Court Services
Kilkenny District Court Services were cancelled for Monday. All Monday's cases have been postponed to today, Tuesday.
Older People
Please Remind people in the your area to wear their pendants and to press their buttons as the people at the monitoring station will be there to reassure them. If the electricity goes the alarm will work by battery.
Events, Businesses and Services in Kilkenny and Carlow
Bank of Ireland's Graiguenamanagh branch remains closed due to power cuts
St Fiacc's House, Graiguecullen's services will be up at running on Wednesday, Oct 18, including
meals and wheels, drop-ins, daycare & Sleaty Cafe
Thomastown Scouts & Beavers is cancelled tonight on advice of Scouting Ireland.
The OPW sites have suffered extensive damage with pathways blocked due to fallen trees and a lot of boughs hanging which will need to be removed before the pathways will be safe for visitors to use.

Kilkenny Castle's parkland is closed due to substantial damage, the castle & tearooms are open as usual. (The Courtyard has been cordoned from the parkland).
Altamont Gardens in Carlow is closed due to extensive damage.

Woodstock Gardens, Inistioge, Co. Kilkenny will remain closed to the public for today
Callan Dental have no power today so will be closed for the moment and will notify patients when they are back open

Graiguecullen Swimming Pool in Carlow is open to the public from 7am to 4.454pm & 7pm to 9.45pm.

Graiguecullen bingo will go ahead this evening at 8.30

The Fr. McGrath Centre's Creche will be CLOSED 

today and will re- open on Wednesday morning. Parents will be notified at noon if the After Schools Service will resume today. All other services are expected to resume as normal including Kilkenny Multimedia, Carlow/Kilkenny Contact, Kilkenny Job Club and the Neighbourhood Hall Project. They advise people to travel only if it is safe to do so.

the Alzheimer Day Care Centre, known as The Village Day Care will be closed today & expects to resume service on Wednesday