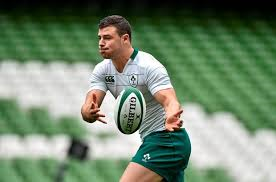 Ireland have beaten England in the 6 nations at the Aviva stadium, the final score was Ireland 19, England 9.
It's a huge victory for Ireland as they and England were the only two unbeaten sides coming into this game and people felt that the winners of this would become the favorites for the 6 nations.
Ireland are the only team now that can do the grand slam.
Ireland's only try of the game coming from man of the match Robbie Henshaw on the 52nd minute after Ireland were pressuring England on their line, Conor Murray dinked the ball over the top of a ruck and Robbie Henshaw grabbed the ball out of the air and touched it down under pressure from an England player. The ref went to the TMO first but it was awarded, Johnny sexton converted that then and kicked all the other scores, he missed one penalty though earlier.
England's points came from their out half George ford, one of them a drop goal and he also missed a shot from the half way line.
Injures wise there's concern for Tullow man Sean o Brien who was taken off with concussion in the first half, he carried the ball into a tackle and remained on the ground, he tried to get up then and was stumbling over before the medics came on and Tommy O Donnell took his place, Sexton went off early in the second half too and was replaced by Ian Madigan, that looked to be a hamstring strain. Ireland controlled most of the game and defended very well keeping England away from the try line on three occasions.
Ireland head to wales next and then the final game will be against Scotland, Ireland are now top of the 6 nations table and their fate is in their own hands.
Ireland has beaten England at the Aviva stadium, final score IRELAND 19-9 ENGLAND.