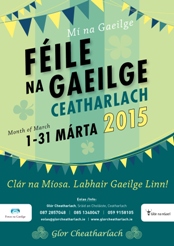 Today marks the start of Irish Month in Carlow.
Féile Na Gaeilge kicks off in the town this evening with a Trad Session in Tinryland Clubhouse from 6-9pm.
There's a packed programme of events planned for the month of March – including, 'Once Upon a Place' a day of reading in both Irish and English with Author Eoin Colfer.
A full list of events can be found on www.glorcheatharlach.ie.