KCLR News
Kilkenny councillors to meet before dog shelter contract is signed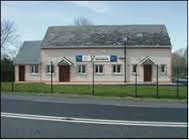 A discussion on the Carlow-Kilkenny dog shelter is likely to happen at a meeting of Kilkenny county council next Monday.
Its after assurances were given that the contract for operating the shelter in Paulstown would not be signed until after members got to discuss the matter.
Its been a hot topic locally since the ISPCA annouced their withdrawal from the service late last year.
Fianna Fail Councillor Paddy Mckee contacted KCLR news yesterday to confirm the new contract would not be signed yet.