Kilkenny County Council hears from two more Presidential hopefuls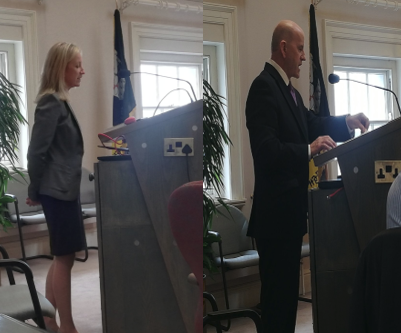 Five presidential hopefuls were supposed to address councillors in Kilkenny yesterday but in the end only two turned up.
Seán Gallagher – who now has his four nominations – was the first, and journalist Gemma O'Doherty was the second.
Ms O'Doherty did have an impact on at least two councillors as they have now decided to ask the council to nominate her.
Independent Breda Gardner told KCLR News after yesterday's presentation that she thinks she should be given a chance.
One of the local points Gemma O'Doherty touched on in her presentation was the closure of local businesses in Kilkenny City.
And speaking to KCLR News she said she does think that as the head of State she could make a difference.
Meanwhile, Carlow County Council yesterday chose Gavin Duffy with seven councillors voting in his favour. Five had opted for Sean Gallagher with the rest of the members opting either to abstain or to chose neither man.