KCLR News
News & Sport
Mixed reaction from councillors on development of Abbey Quarter as latest public consultation set to take place
An online event will run from 7pm this (Wednesday) evening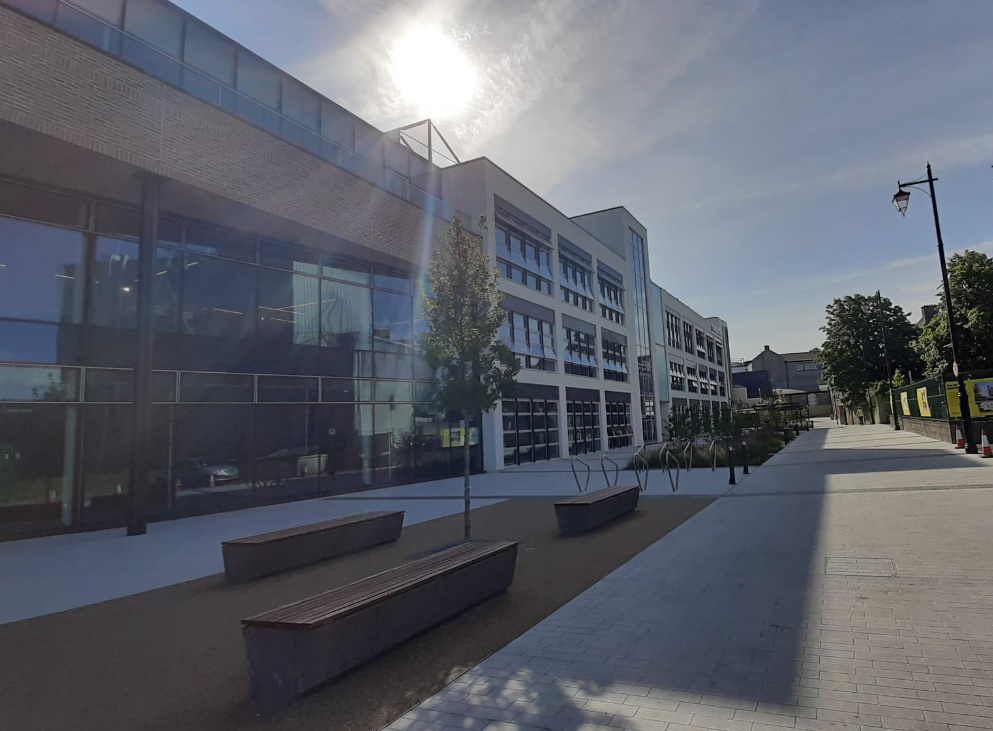 The Chair of Kilkenny County Council says he's "very disappointed" to hear development of the city's newest street has stalled.
A public consultation event on the Abbey Quarter will run on Eventbrite from 7 this (Wed) evening (link here) but councillors had an update at their monthly meeting.
The Brewhouse is full with the remaining space there currently being fitted out for third business SRA / Security Risk Advisors, while the city library's set to open at the Mayfair building in May.
All of the elected representatives praised the quality of what's developing on the site but some concerns were raised, some citing the potential impact of the future business offering on existing enterprises elsewhere in the city.
For Cllr Pat Fitzpatrick there was dismay that officials can't proceed with the Urban Street – planning permission and funding had been secured for it but the Department hasn't yet sanctioned it.
He says "I know the council officials are extremely, I suppose, concerned that, you know, it's taking so long to get departmental approval, it was submitted again last September and they're waiting to today and haven't heard from the department so I'd be certainly calling on the Department to clarify the situation and to ensure that development of the Abbey Quarter can continue with the development of the street".
Cllr Fitzpatrick adds that infrastructure's key to moving forward in terms of enticing enterprises to the area; "There are tenants there, they're all delighted with their premises and all that and we need to develop it further, we are in the middle of a masterplan review but this street has to be built to allow us to further develop and it's so important".
Cllr Maria Dollard's worry had been around social housing provision and she was delighted to get confirmation from Acting CEO Seán McKeown that the landbank in the section known locally as Sweeney's Orchard had been retained by the council, would remain in its ownership and would be used for this purpose.
Cllr Dollard told KCLR News that this was 'significant', adding "You know we did I suppose sign over some parts of the site to be developed for commercial use in partnership with the county council but this part is still publicly owned and that's what we want to see public housing on public land so it's really important we got that confirmation".
She says there are many benefits to providing social housing in the city's developing area; "Certainly it would be so suitable for older people, people with disabilities, people who are not necessarily looking to have cars because we're trying to keep cars out of the city centre and it's right beside a bus stop, right beside public transport, there's taxis, you're near shops, you're near churches, you're near social activities, cultural activities, so it's a really good site for a lot of people that would benefit from housing down there".
And the local green party representative says it's important that people avail of the opportunity to participate and contribute to the process, including events like this evening's; "It's really important that people come along, listen and contribute if they feel that that's what they'd like to do and you know you can always send in a letter, it can be handwritten, people don't have to write legal documents to contribute to the development plans or anything like that so I think it's really important that people do get involved, come along and listen, see what the proposals are".