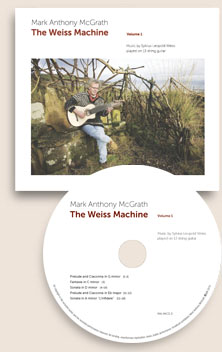 Mark Anthony McGrath is one of Ireland's finest guitarists and has some fine albums to his credit. His latest project is to bring the music of Sylvius Leopold Weiss to a wider audience. This is a labour of love and has been in production for a good number of years.
The original works were composed for an contemporary instrument (a lute-like 25 string instrument) so the project has many technical facets, and is not just a transposition to a 6-string guitar; this project has resulted in the creation of a 13-string guitar and this has not been without its challenges as we'll hear.
The key thing is that the album is now out and due for launch at The Hole In The Wall tavern in Kilkenny at 19:00 on Saturday, June 6th.
You can get further information at Mark's website